NEXT 2020: Featured Students
Each year, Corcoran professors nominate outstanding students who are exemplary artists, scholars and performers in their cohort. These students are invited to showcase their work at the NEXT annual thesis exhibition and performances. The COVID-19 pandemic prevented the Corcoran from hosting NEXT 2020, but many student artists still found creative ways to complete or rework their projects. Below, a few sample works from the NEXT that never was. The portraits featured on this page were produced by the students of Professor Matt Guastaferro's DesignLab class and shot by Chloe Brover, BFA Fine Art Photography '20.
 
New Media Photojournalism (M.A.)
Eric Lee (M.A. '20) is a documentary photographer studying New Media Photojournalism. His work has appeared on NPR, The Intercept, Gettysburg Magazine, and more.
As an Asian American photojournalist, his work is centered on raising and shaping the next generations. He hopes to include Asian American stories to the evolving American narrative.
Eric's thesis, Where We're Really From, is a multimedia documentation and exploration of what boyhood in Asian America looks like. Growing up in Brooklyn, NY, he was inspired by his own childhood experiences. Following the Phams family for over a year, Eric's project aims to dissect the challenges and accomplishments of raising young boys. The project takes note of the Phams' daily decisions that shape the boy's identity and upbringing.
Born and raised in the coastal town of Murrells Inlet, South Carolina, Berkley Lane (B.A. '20) has always admired the ocean and all of its systems. As a dancer, she is inspired by the environment as she gravitates towards movement styles that are free-flowing and grounded, with large sweeping movements that use her entire body at once.
Throughout Berkley's time at GW, she has choreographed dances inspired by how water molecules move together, how trees grow slowly in a large forest, and how waves interact with one another and with other organisms in the ocean.
---

Berkley's thesis, Moving Through the Bloom, combines her two majors, Environmental Science and Dance. Her dance choreography is based on the findings of her research on the Chesapeake Bay, the largest estuary in the United States, and its dead zones. Through her dance, Berkley hopes to spread awareness about the environment during this critical moment.
Joey Enriquez (M.F.A. '20) makes digital art, photography, printmaking, and sculptural work. Their art and design form communities for people who are marginalized or need to be empowered.
Joey's work ranges from socio-political memes of Gen Z culture to photographic and linoleum block prints of the desert environment to data visualization of public transit.
In desierto desierto, Joey recreates an adobe house ruin in Garfield, New Mexico  where their great-great-grandmother Carmen and her daughter Hermina lived, and where they were also murdered by Joey's great-great-grandfather Mariano in 1914. By recreating part of the adobe house that is still standing today, Joey investigates the resilience and survivorship that characterizes things that inhabit the desert. As they construct the adobe bricks themselves in D.C., it symbolizes the materiality of the wall itself and how its removal from the desert points to the literal and metaphorical removal of the family unit from the actual adobe house.
Throughout their thesis, Joey also uses their work as a way to talk about their own identity as a racially mixed person. Their deep research through literal archives of their family and cultural history, as well as the treatment of the desert itself as an archive of sensory information and recollection of memory, reveals the navigation of the land itself as an expression of Joey's own labeling of their identity.
Interior Architecture (B.F.A.)
Anna Savino (B.F.A. '20) is passionate about both design and dance and often finds herself focusing on the physicality of the human form, incorporating unique and experimental methods of choreographing movement throughout a space. She uses conceptual architecture as a means of exploring how a user's environment impacts their experience and, inversely, how an environment is impacted by human interaction.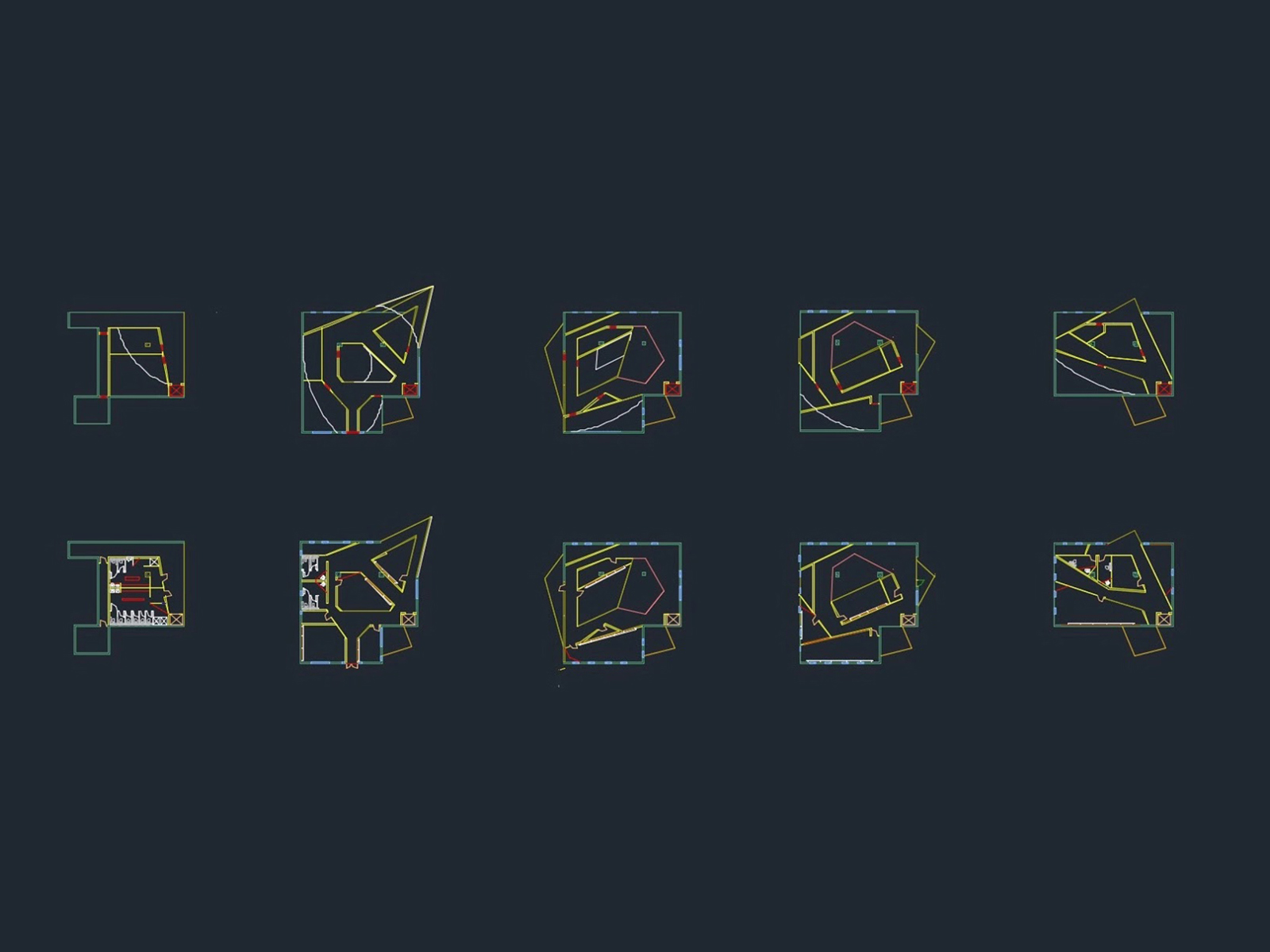 Tra_nslations combines dance and interior architecture, as Anna believes interdisciplinary problem-solving within the arts has become increasingly important. Anna's design houses a collective for dancers who wish to keep up their practice post-studio training. She hopes to bring contemporary dance to the forefront of community culture by allowing visitors to engage in their own "dance" through circulation patterns and exploration of the space, mimicking the dance that the primary users participate in.
Fine Art Photography (B.F.A.)
Catherine Leonard (B.F.A '20) is a photographer and artist from Silver Spring, Maryland. Her work of the past three years has been an intimate and personal approach to her own familial dynamics, understanding the changes within family structures over time.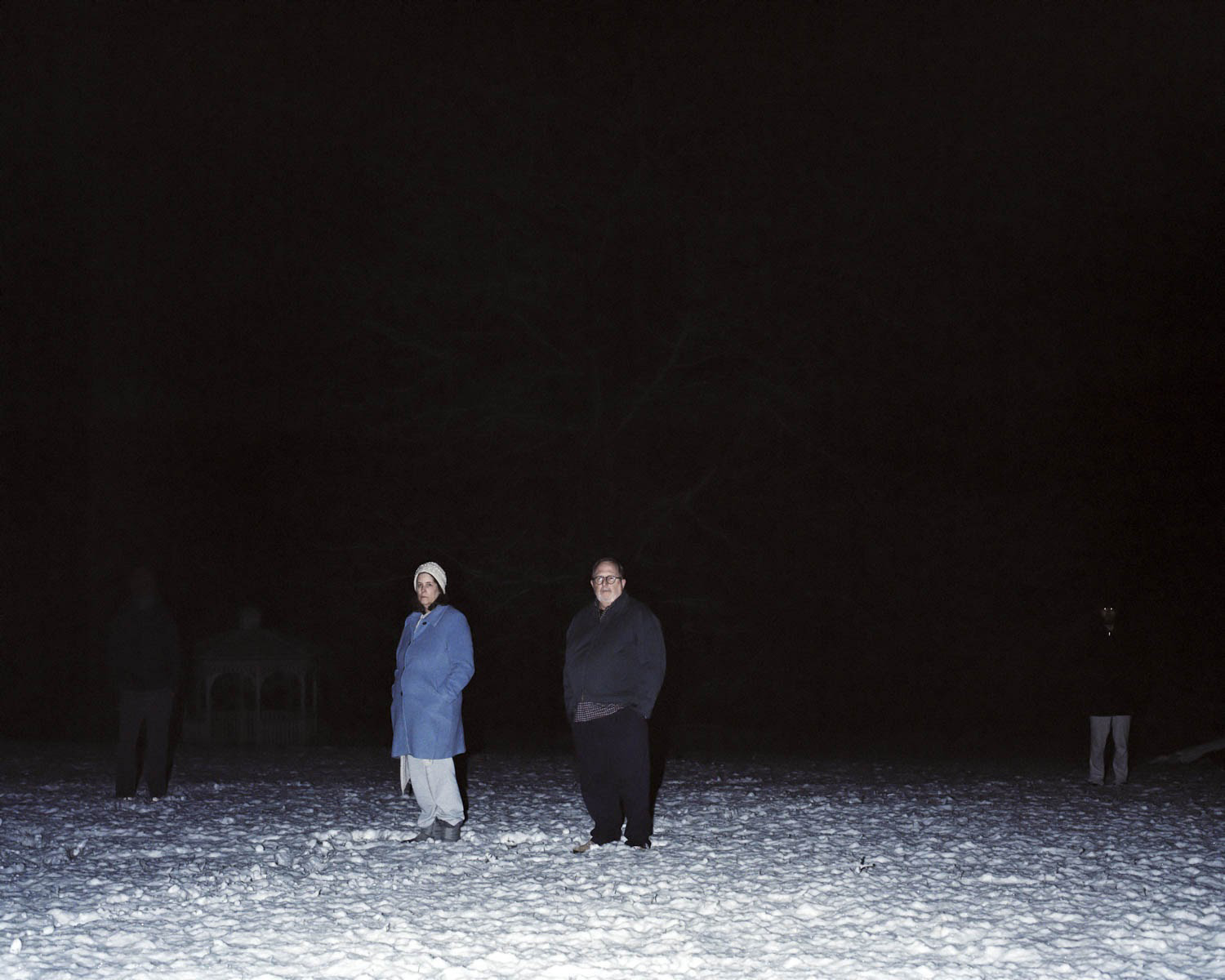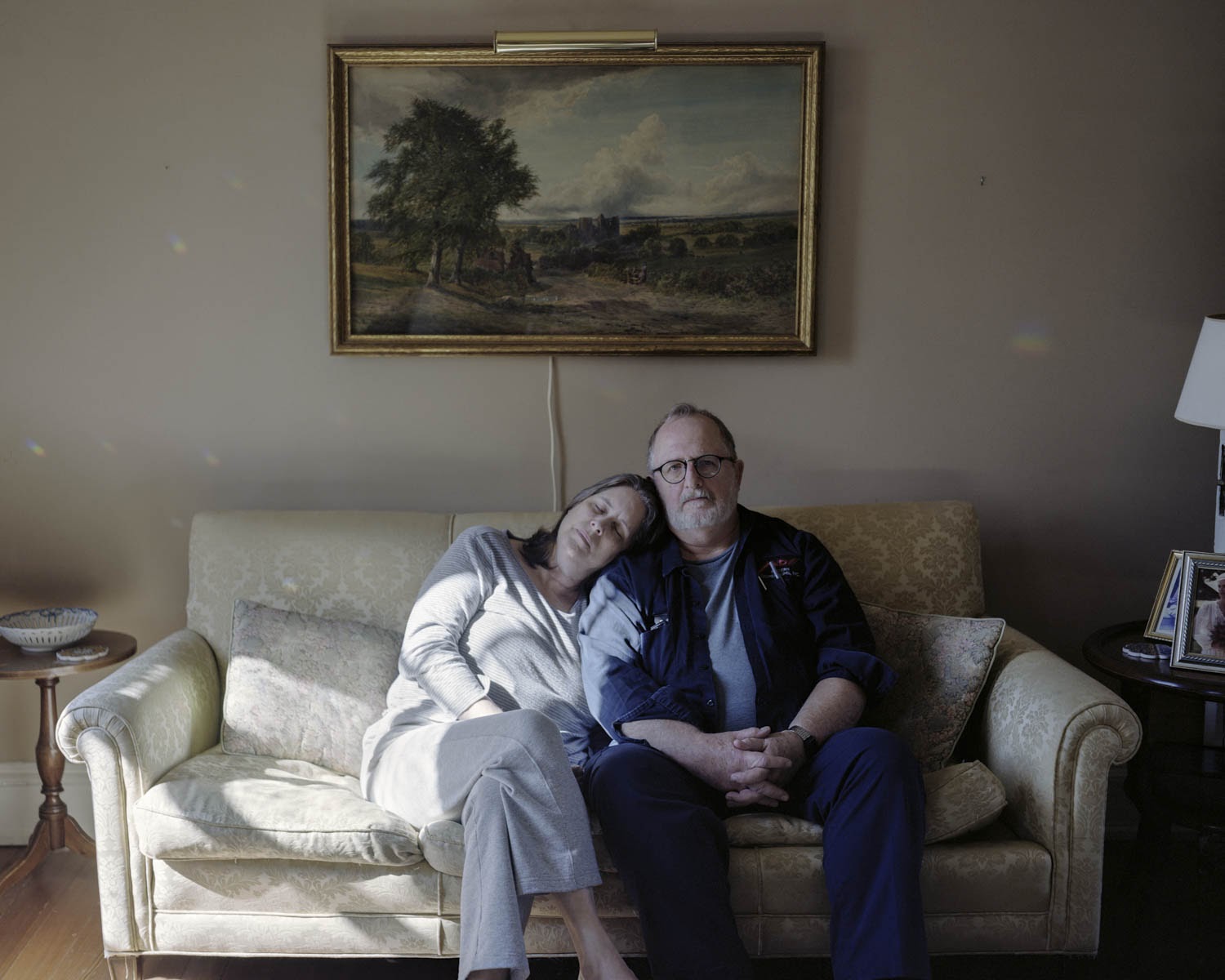 In 2011, a series of events greatly affected Catherine's family ㄧ her mother's unemployment at the beginning of the year, her father's job loss a few months later, and her grandmother's passing. She describes her grandmother as someone who held together her family's rituals and solidarity. Catherine writes, "I yearn for the moments when we would sit together and share a meal, feeling content existing in the same room with each other. While there is no solid definition of what a family is or should be, I am left longing for what once was."
Catherine's thesis The Way By Which I Came is based on the uncovering of a series of poems, labeled in roman numerals, tucked away in a slowly deteriorating sketchbook, left behind by her grandmother. She utilizes her grandmother's narrative poetry and creations, in context with her images to combine her grandmother's past and my family's present to understand how their losses caused a degenerative shift in their family dynamics.
Fine Art (B.F.A.)
Sam Gardner (B.F.A. '20) is the founder and owner of a business called Pancakes. Originating as a custom shoe store, Pancakes has evolved to selling handmade original clothing made from recycled materials and all types of art.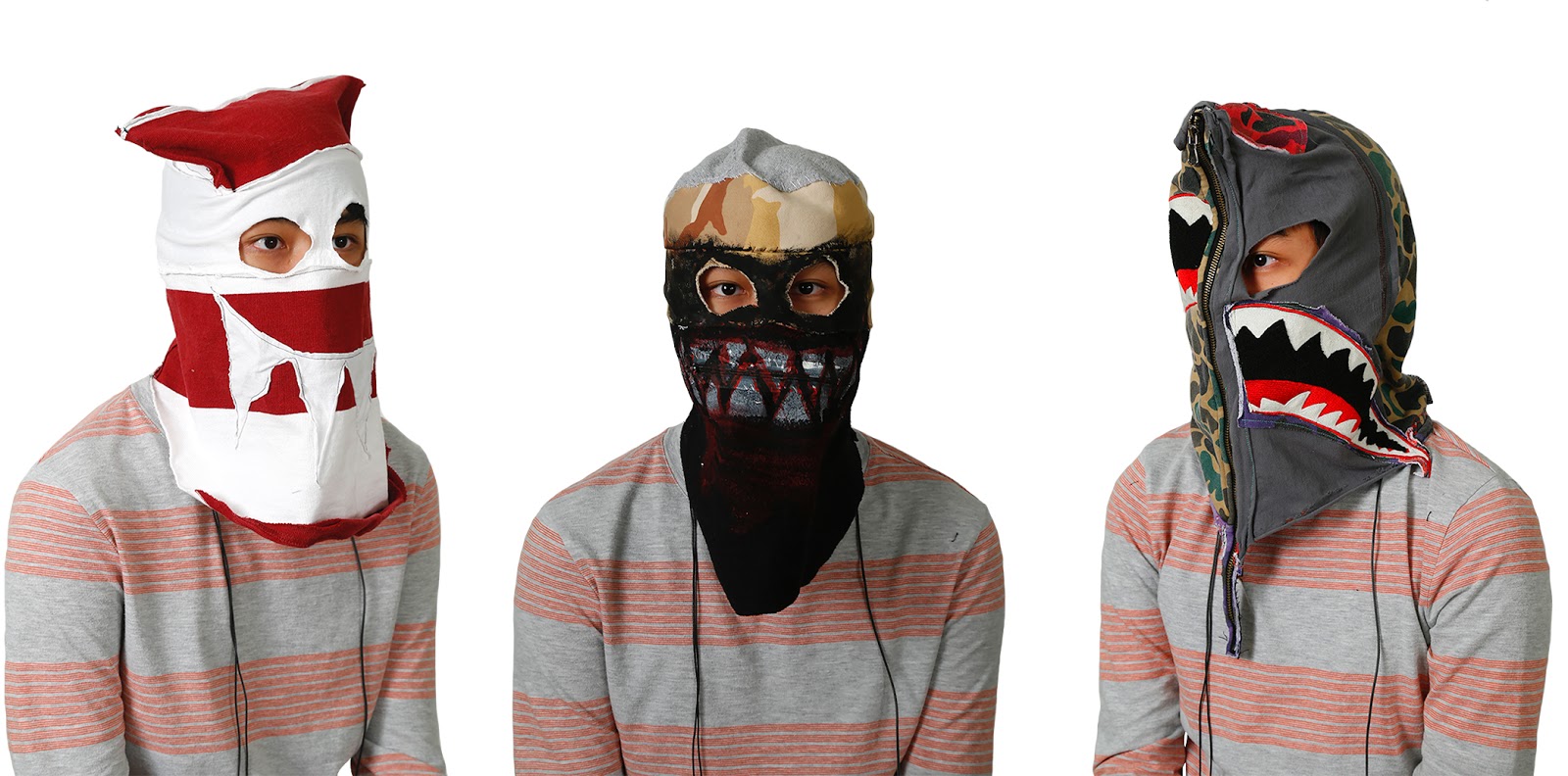 ​
With fast fashion being one of the leading contributors to global warming, sustainable fashion is at its peak of importance and relevance. Sam's exhibiting thesis will be a pop-up shop, which will include original pieces from his store. Each item is meant to have a unique identity of its own and is made through sustainable practices. From using his own clothing to materials bought at thrift stores, Sam restructures textiles to create a new individualized piece of art.
Interaction Design (M.A.)
With a career that has been anything but linear, Alejandra Leiva (M.A. '20) went from the healthcare field to interaction design. During the Spring of 2019, Alejandra submitted a pitch to the GW New Ventures competition. Just a few months later she found herself taking home a check for $35,000 for her company Dulceology, an online bakery that specializes in Latin American cookie boxes. With her award money, Alejandra was able to move her business into a larger production space in Baltimore, Maryland and is getting ready to open her first brick-and-mortar shop in late spring 2020.
Latina Ventures is a podcast series documenting Alejandra's startup journey and what it took to launch Dulceology. In her episodes, she shares "bite-sized" lessons, challenges, and opportunities for minority women.
Photojournalism (B.F.A.)
Issac Jonas (B.F.A. '20) uses visual journalism to deliver important stories in innovative ways. Focusing on social issues, Isaac combines his traditional fine art background with a journalistic sensibility to deliver media that is strong and impactful.

No Miraculous Ram became a way for Isaac to explore his intrapersonal relationships through the lens of his cultural heritage and relationship expectations in the United States. Inspired by Larry Sulton's work on the family, it shifted the way that Isaac approached the subject. He believes that "in such a politically charged time, an exploration of the family unit and cultural expectations is key to understanding the cultural differences between the myriad communities in the United States." In further discussing his thesis, Isaac said, "This work explores my interpersonal relationships within American culture. While creating this work, I've come to recognize the fragility of relationships around me—things can fall apart in a split second. Doubt and insecurity can wreak havoc in a relationship, no matter how strong it is perceived to be. Not only have I witnessed how fragile relationships are, but how valuable they can be as well. This work also acted as a way to self-actualize my role in my relationships, and realize how quickly those roles can be uprooted or changed. While my work is rarely so personal, this served as therapy and a way for me to deeply understand my surroundings."
Interior Architecture (M.F.A.)
Born in Washington, D.C. to a family of diplomats, Patrick Walsh (M.F.A. '20) attributes his love for interior architecture to the traveling he did as a child, particularly across South America and Europe. As a design student at GW, he has developed a strong appreciation for sustainable and biophilic design ㄧ the practice of integrating elements of nature into built environments ㄧ as well as the importance of responsible adaptive reuse and preservation of historic buildings. "We only have so much space, much of it with a great history. It is our duty as designers to preserve that history, and honor it as we continue to push the industry forward," says Patrick.
Anacostine Boat House & Nature Center is an exploration into how coastline facilities, like boathouses, can better connect humans with the bodies of water closest to them, and more specifically, seeks to address the disconnect between Washingtonians and the Potomac River. Through his thesis, Patrick hopes to restore the bond between urban residents and their natural surroundings by providing an easily accessible space for people to meaningfully interact with wildlife in their area, ultimately fostering a deeper appreciation for it.
The Anacostine Boat House & Nature Center will serve as a boating dock, public park, venue, and educational center, providing visitors with an opportunity to learn about the history of the Potomac River, its native inhabitants and the impacts of climate change on the river. In teaching the public about the river's mistreatment, Patrick hopes his thesis will serve as an effort to keep the Potomac clean.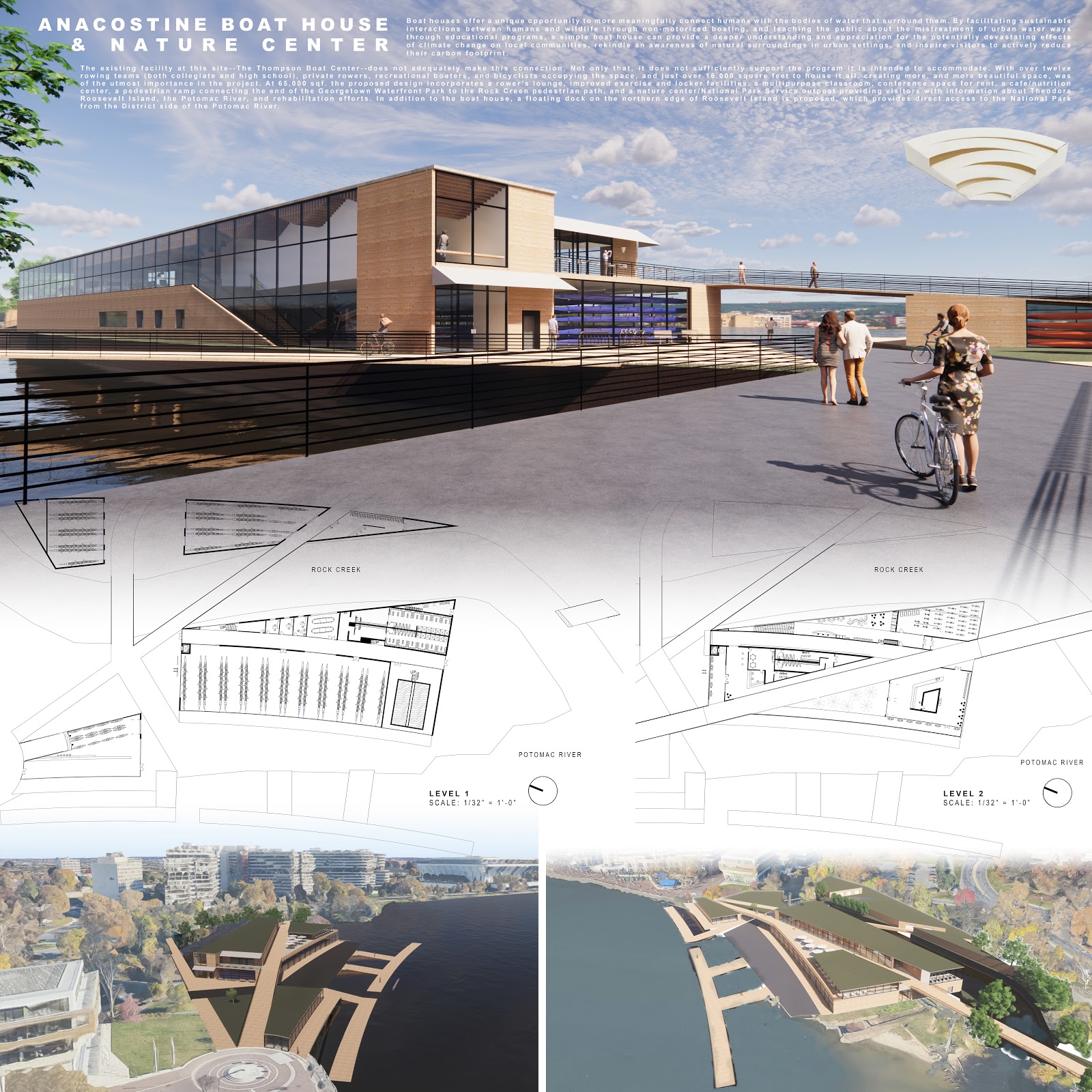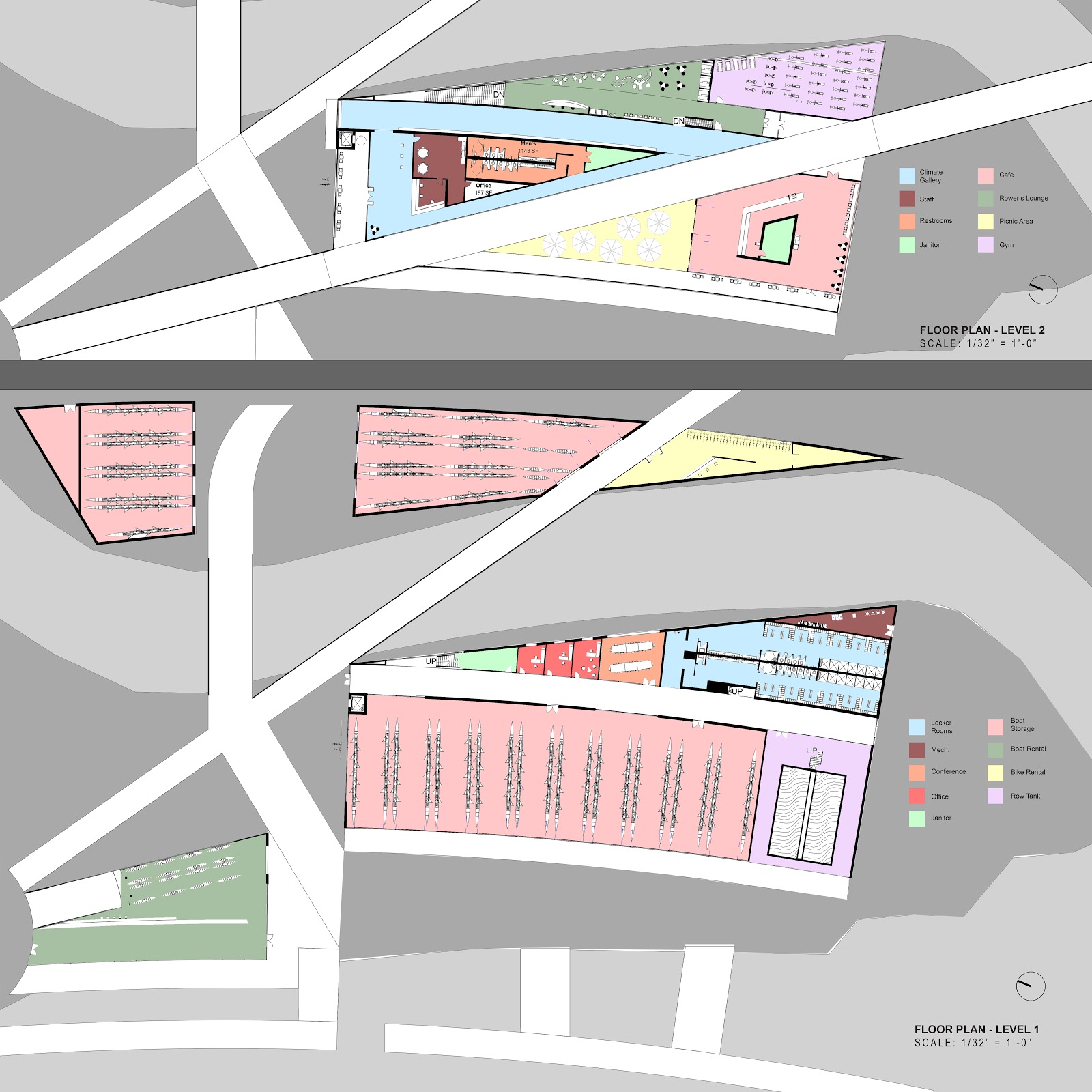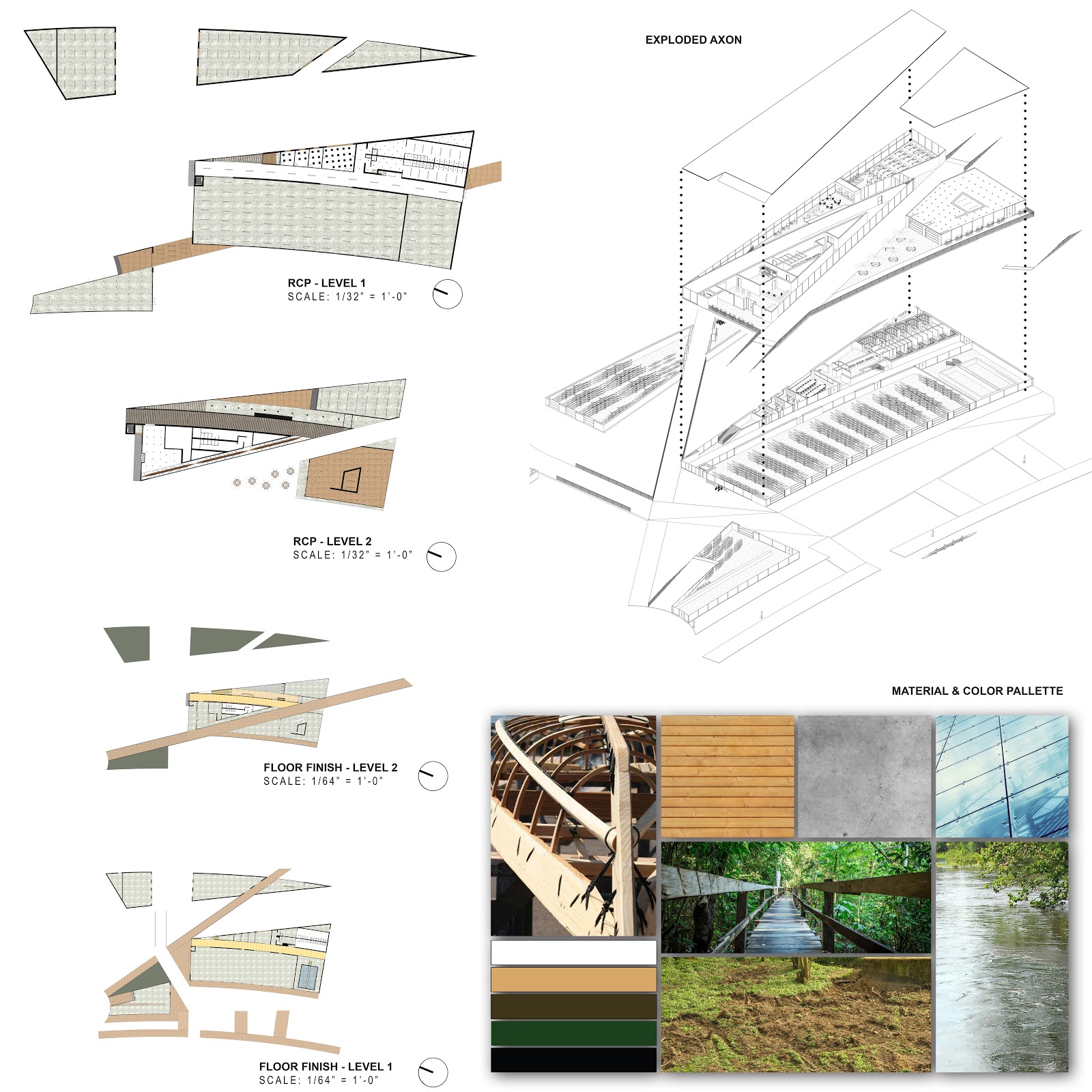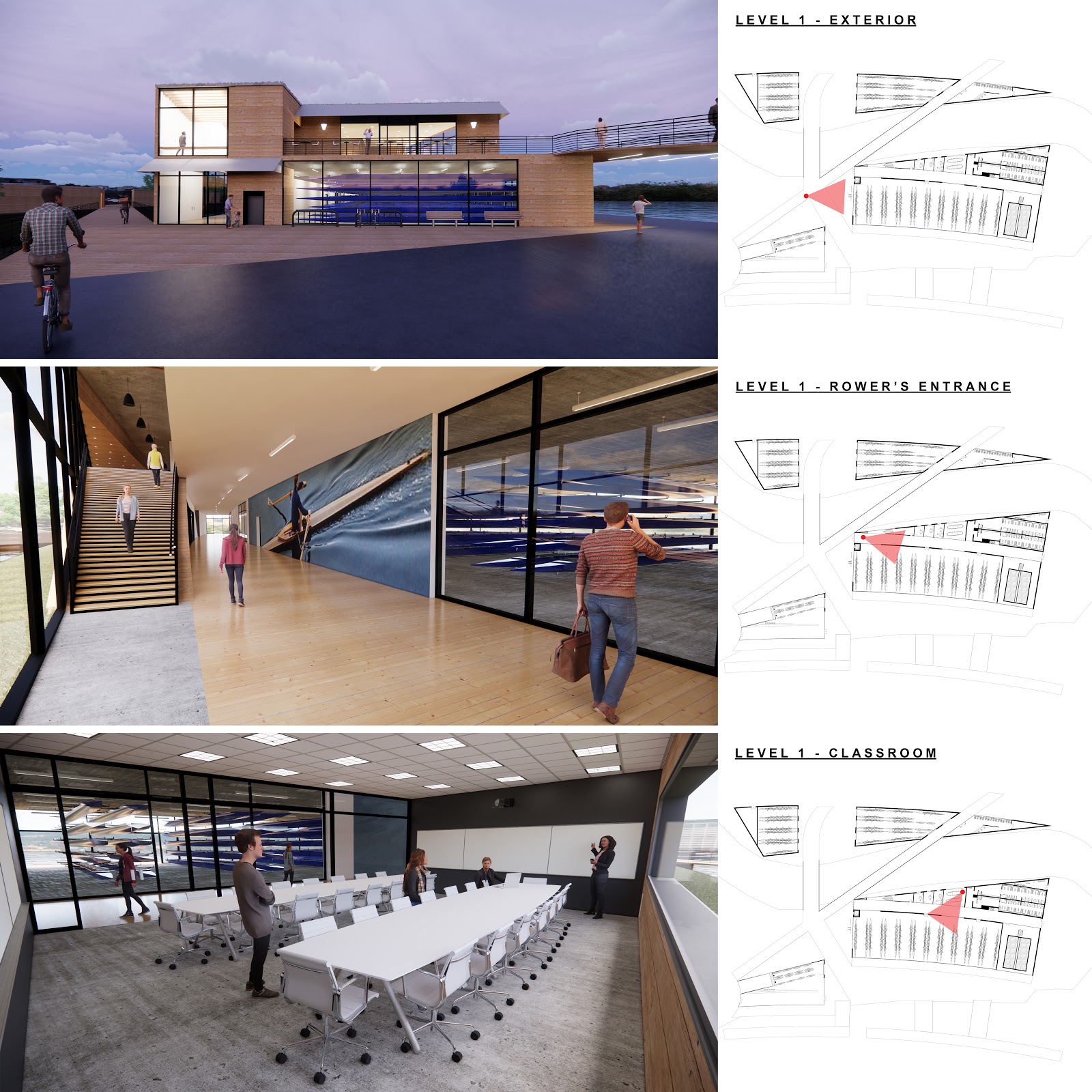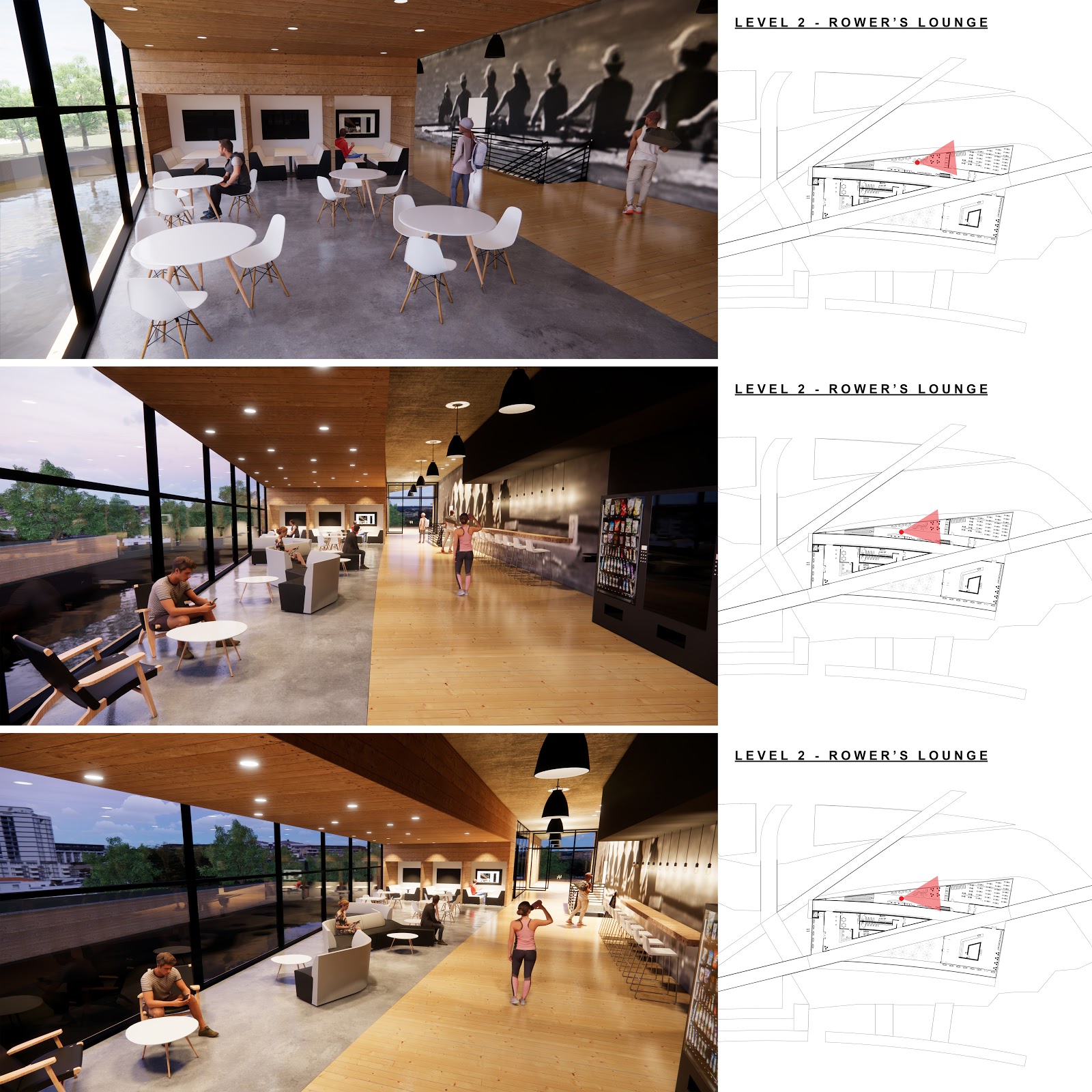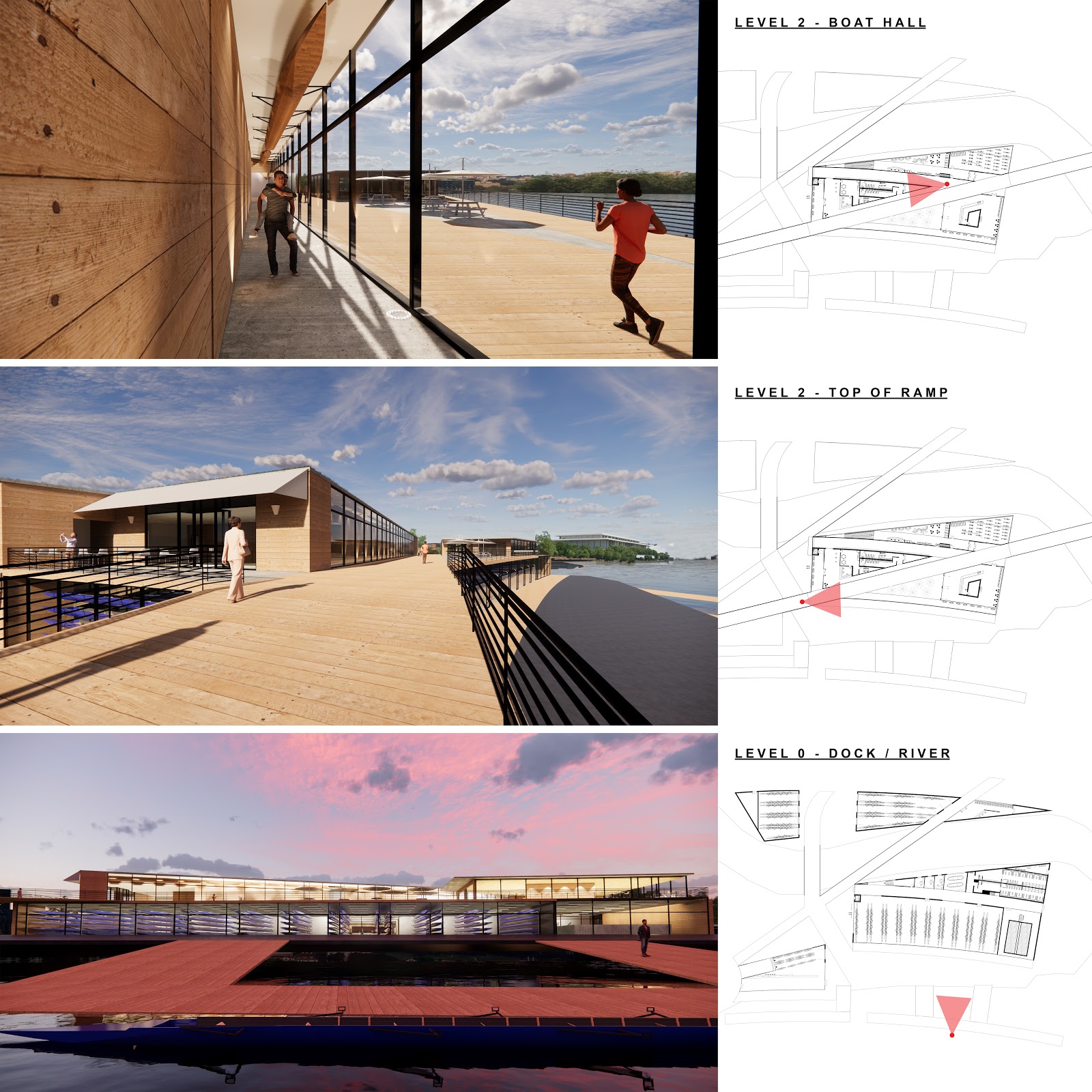 Music (B.A.)
As a spoken word poet, Andrew Hesbacher (B.A. '20) has performed across the city as a former member of the DC Youth Slam Team and competed nationally at the College Union Poetry Slam Invitational after founding GW's very own slam poetry team. Musically, Andrew has been a member of several ensembles during his time at GW, but he takes special pride in the work he has done as Vice President and lead trumpet in the GW Jazz Orchestra. Most recently, Andrew performed the lead role of George Washington in the musical Waking the Oracle in the fall of 2019.
Nine Stories and A Basement: A Thurston Musical shares the story of Mabel Nelson Thurston Hall in 1968 and 2020 through the eyes of Mikaela, a girl from Philadelphia who is the first woman in her family to go to college, and her friends. She moves into the already 40-year-old women's dorm and experiences the trying times of her first year while conforming to the strict policies the university enforces on women. Before the year is up, she finds love, survives a fire and all of it is going by too fast. She wakes up to find herself in 2019 as a senior at GW and a resident advisor in Thurston during the year of its remaking. Mikeala's senior year presents new challenges: a dilapidated building, the shift from freshman to mentor and the impending next steps of her life. Through all the chaos, Thurston Hall is there to call her home.
Andrew's thesis serves as a tribute to the historic GW building that will be torn down during the summer of 2020.
Art History (B.A.)
Growing up, Cameron Lakin (B.A. '20, M.A. '21), was always captivated by art museums. After taking two art history courses his first semester at GW, he was instantly hooked. Cameron has held internships at the Kreeger Museum, working with both the education and archival departments. Though his interests are broad, Cameron is particularly interested in early Italian Renaissance art and architecture.
The Jewel on Foxhall Road: The Collection of Mr. and Mrs. David Lloyd Kreeger is an attempt to trace the evolution of Kreeger's collecting from the early stages to the primary years of collecting, and ultimately to the formation of the Kreeger Museum after his death. At a time when the world is heavily influenced by science and technology, Cameron believes it is both refreshing and necessary to examine Kreegers' passion for promoting the arts as a means to enrich society.
Art History and Fine Art (B.A.)
Heesang (Robin) Cho (B.A. '20) knew she wanted to be an artist from the moment she first held a lump of clay in her clumsy five-year-old hands. Art has always been a medium through which she could discover herself, express her identity and find a haven for her creativity. As a Korean-American born in North Carolina but raised in South Korea, Robin loves that she has access to both multicultural worlds. 
Robin's goal as an artist is to understand her complex, layered emotions through various mediums. Most of her inspiration comes from self-consciousness, vulnerability, and introspection. Art allows her space where she can breathe and escape her comfort zone.

When describing her thesis Robin said, "I have found myself being constantly self-aware due to my multi-cultural, Korean American background. I would always doubt and question my sincerity with my emotions, which obscures my introspection and clarity of thought. And, I would end up without a clear answer to what I was thinking. As such, my thesis will focus on giving myself the breathing space necessary to release my complex emotions in the form of art. My thesis "Breather" allows me to express my layered thoughts in a collage while exploring with various mediums. Found objects used in making my collages include but are not limited to paper bags, strings, tea bags, and components of mixed media, which include color pencil, ballpoint pen, and oil pastel. "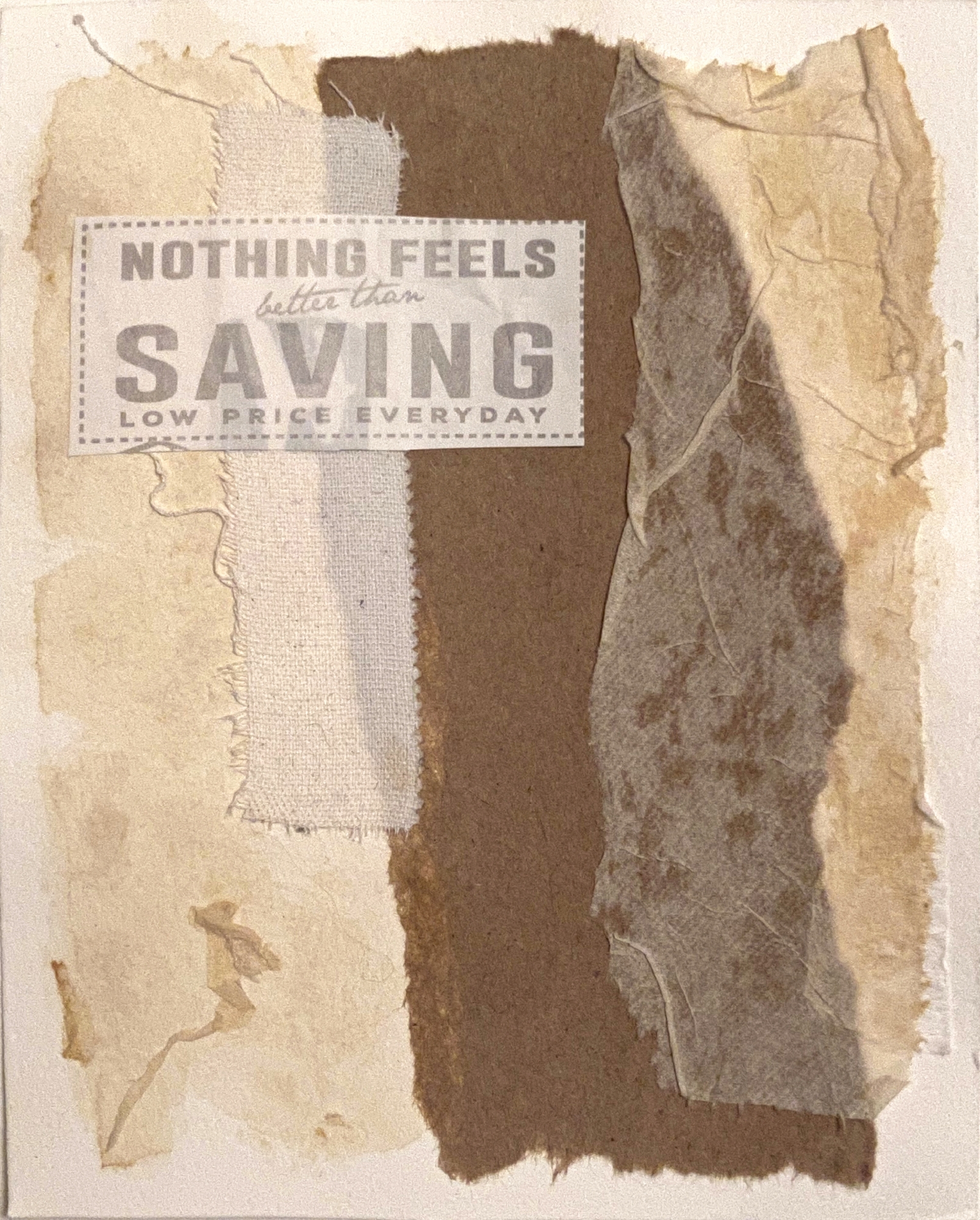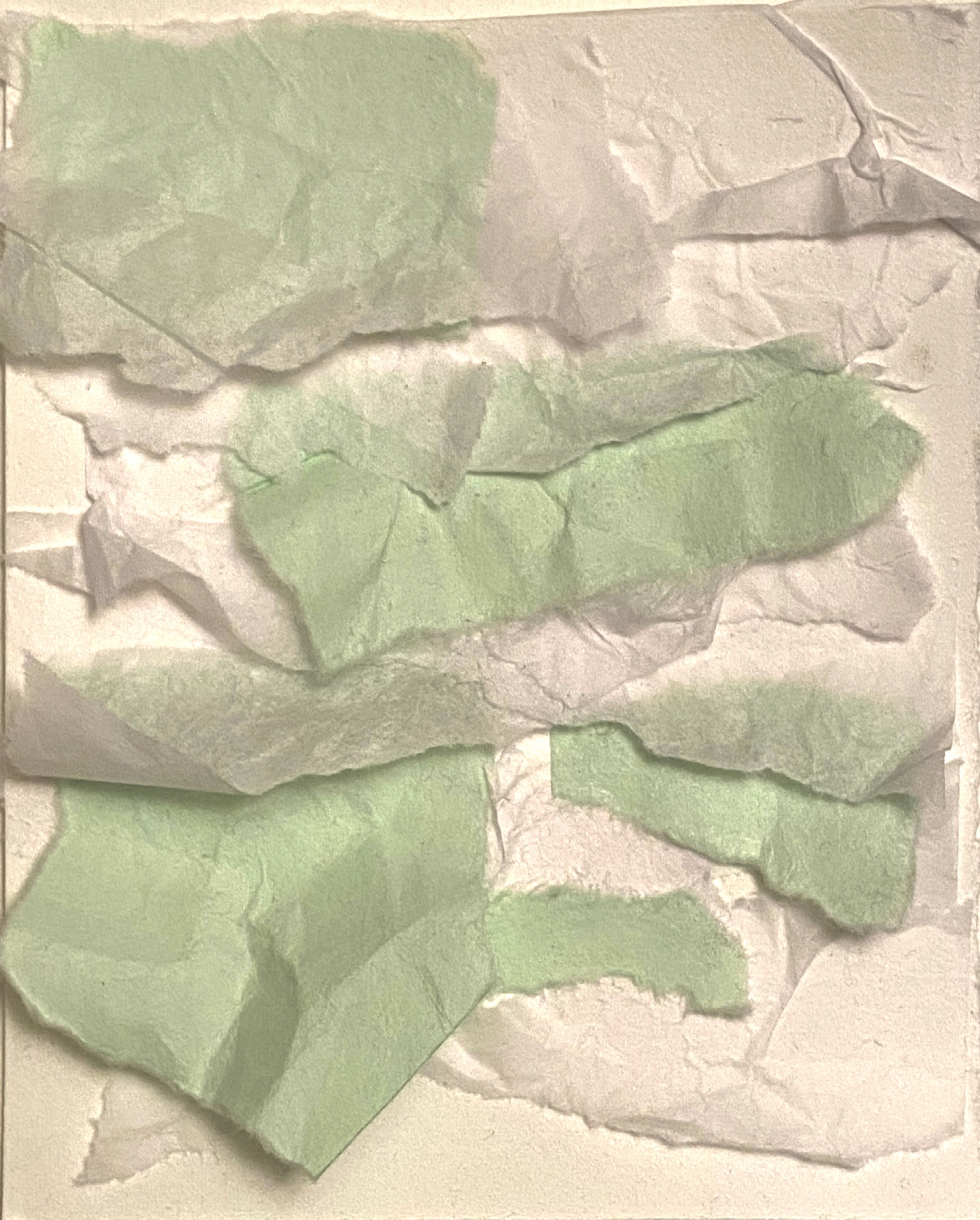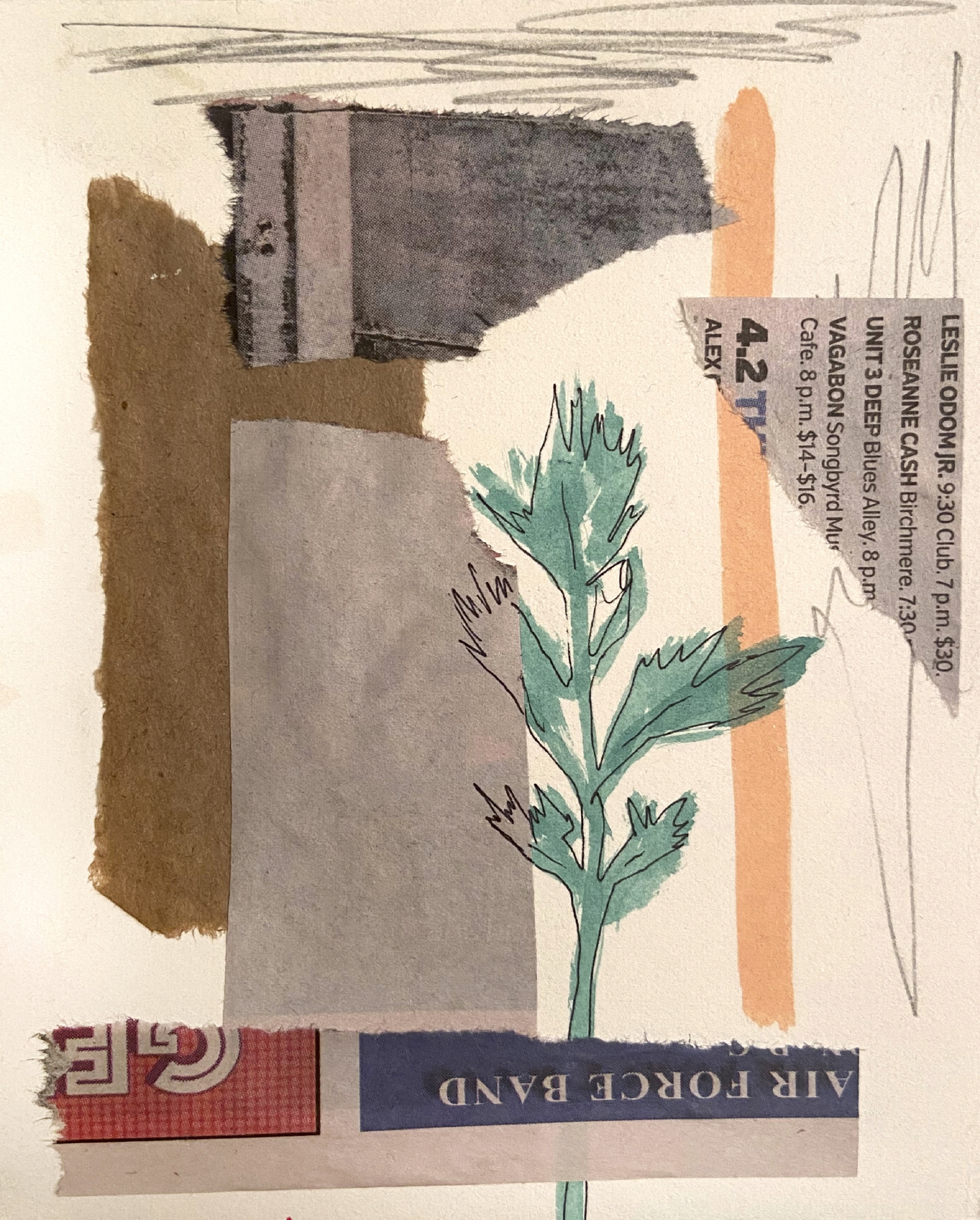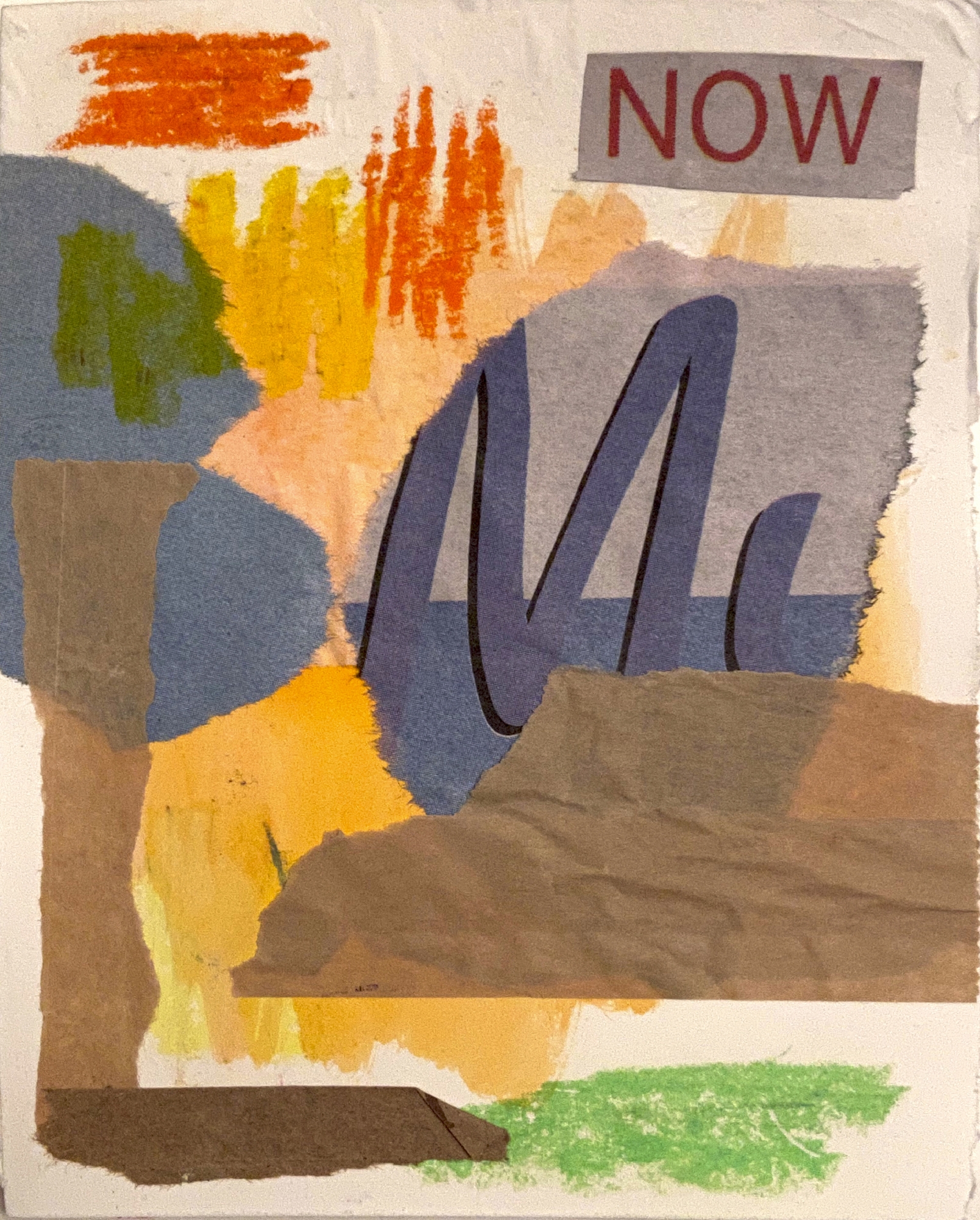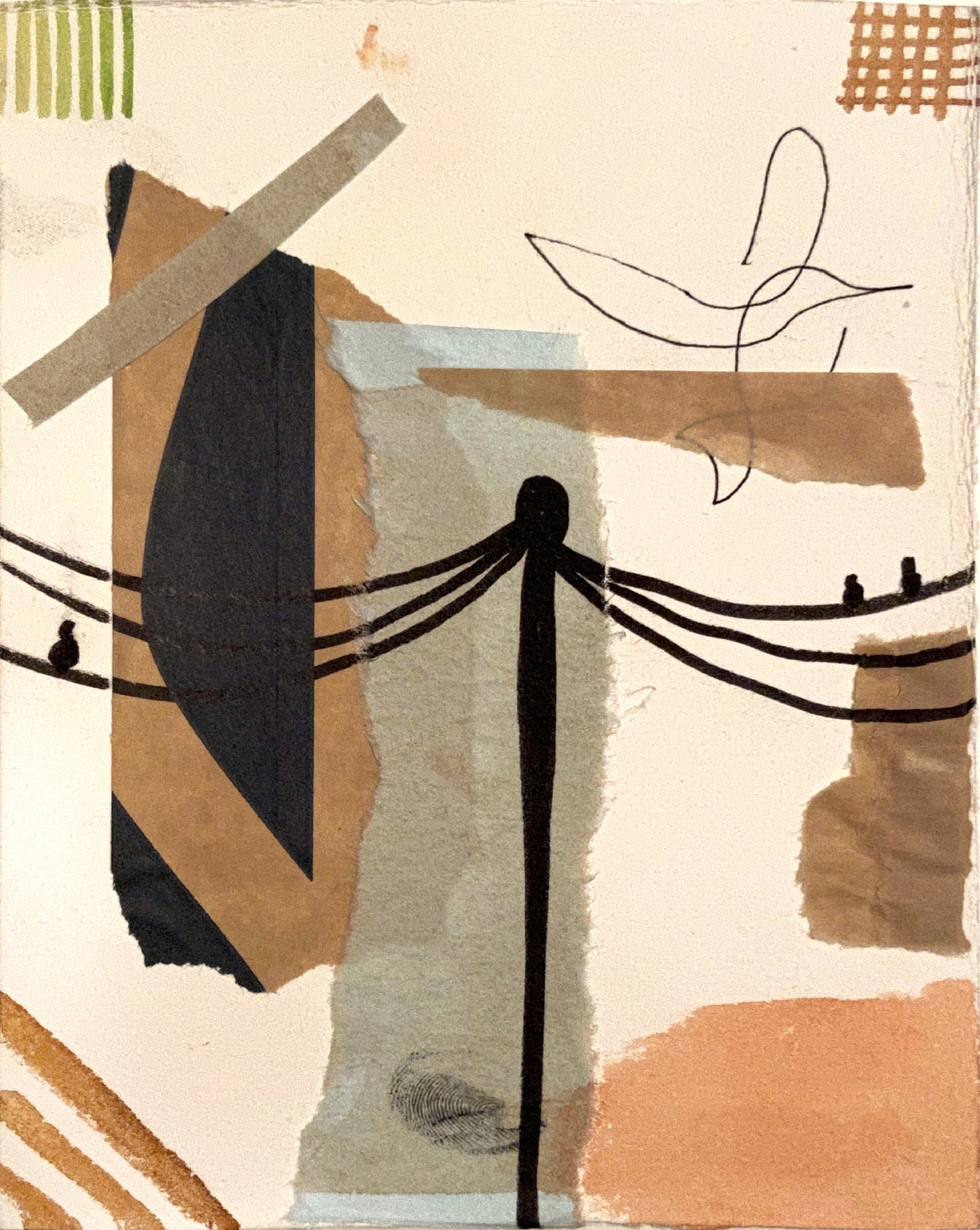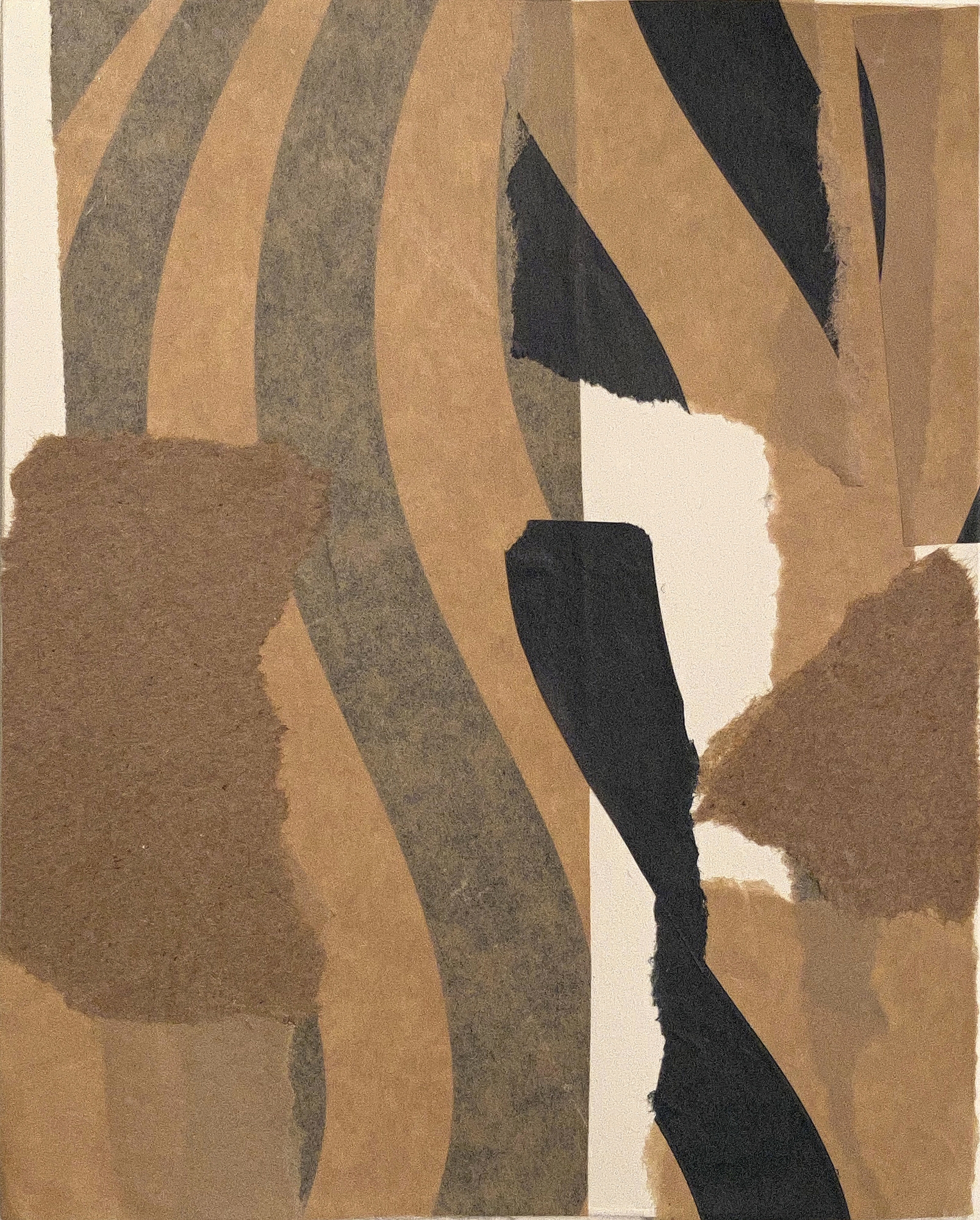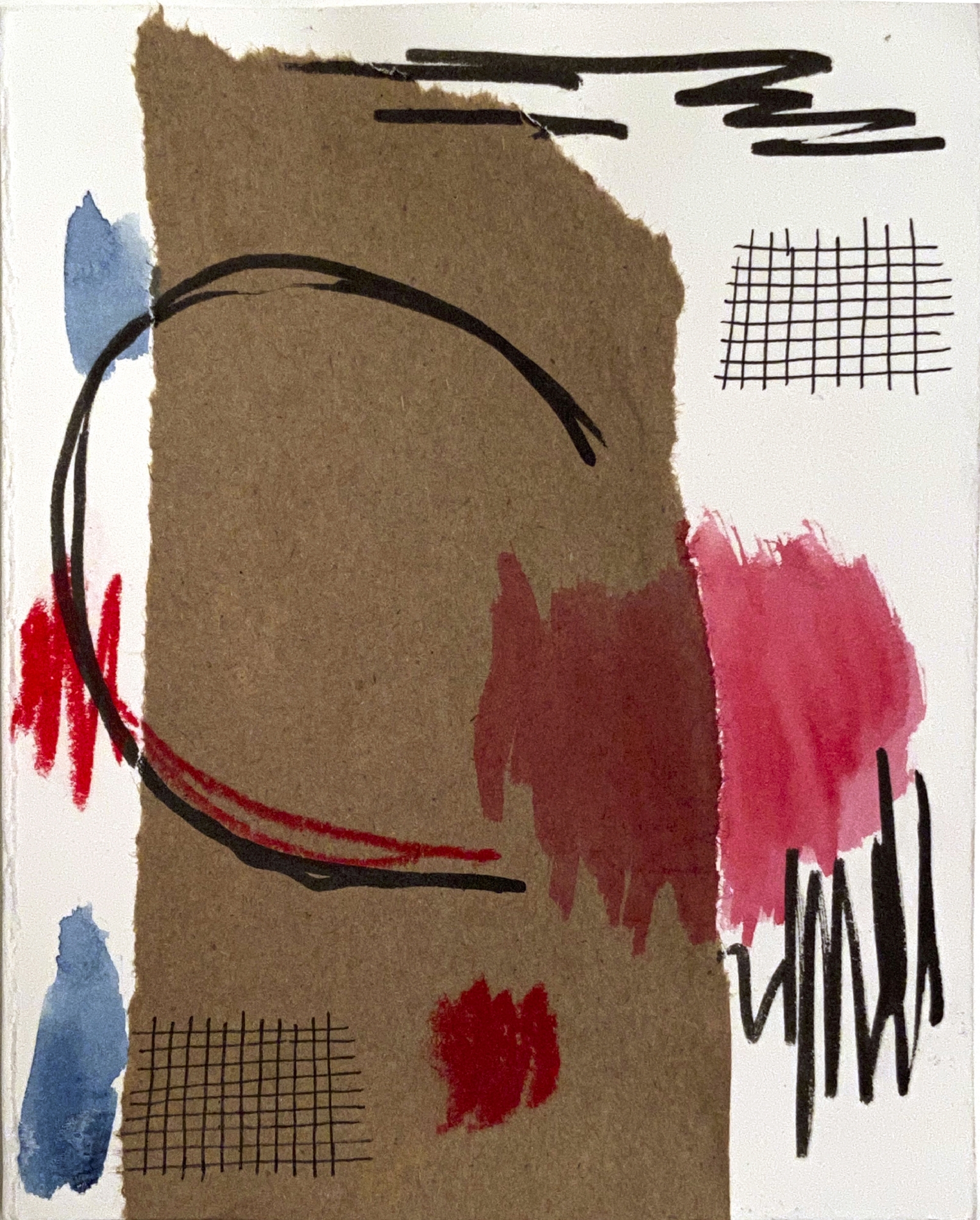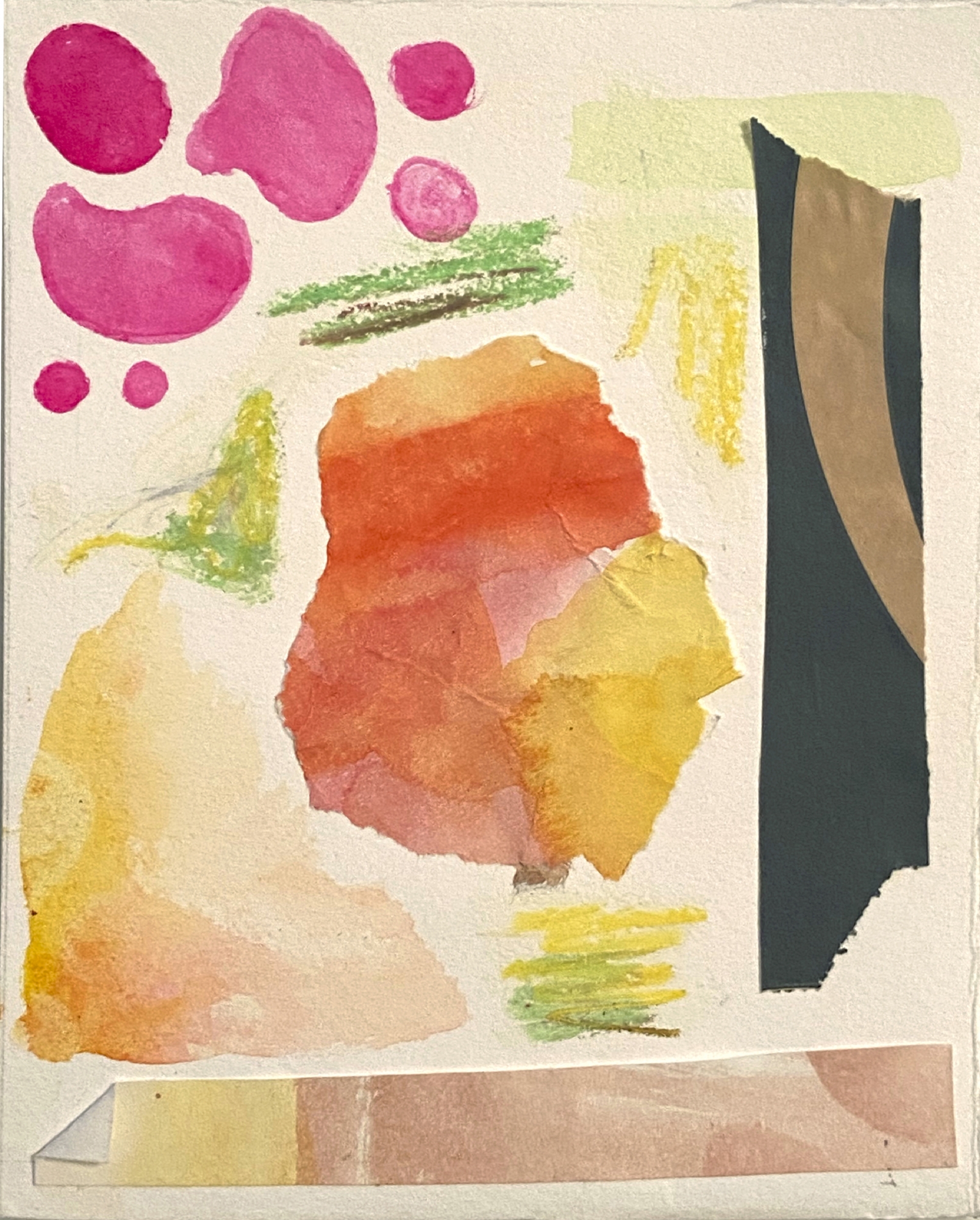 Art History (M.A.)
Caroline Willauer (M.A. '20) initially became interested in studying art history because she is a descendant of the brother, Arthur, of Winslow Homer, the American landscape painter and printmaker. In 2014, she wrote a book for the Prouts Neck Historical Society about the founding of Prouts Neck as a summer community by Homer and his family. Caroline has been invited to present her research at the National Gallery of Art in the spring of 2020.

Caroline's thesis, The Sublime in Winslow Homer's Early Maine Seascapes, focuses on Homer's first three seascapes in particular: High Cliff, Coast of Maine; Weatherbeaten and Nor'easter. Her work builds on the most recent scholarship of Winslow Homer.
Throughout Caroline's work, she examines the true narrative behind Homer's work which is often misconstrued.
Fine Art (B.A.)
Eoin Guidas (B.A. '20) is fascinated by the universe and how it is constantly influenced by interaction. Throughout his work as an artist, he explores these complex interactions and aims to connect human understanding of the mechanics which govern nature to the internal processes which govern human thought and consciousness. Eoin's goal is to represent the underlying conditions of creative thought while simultaneously connecting them to established physical theory. 


Thought Experiment is a 14-by-14-by-8-foot room that has interior walls covered in hand drawn patterns and outside walls covered in prints. In his thesis, Eoin seeks to understand the source of creativity by relating it to an established lineage of logic and process. He draws parallels between the scientific method and the abstract realm of thought, consciousness, intelligence, creativity and imagination though printmaking.
Museum Studies (M.A.)
Jonathan Edelman is a masters student at the George Washington University, pursuing a degree in Museum Studies with a focus on exhibition development. Born and raised in Kansas City, Edelman moved to Washington, D.C. in 2016 after completing his undergraduate degree at Clark University. For two years, Edelman served as the Curatorial Assistant for the Film, Oral History, and Record Sound Branch at the U.S. Holocaust Memorial Museum. He currently serves as a researcher for the Eleanor Roosevelt Papers Project and the Capital Jewish Museum.
Julia Liden is an M.A. student in the Museum Studies program on the exhibitions and public engagement track. Originally from Colorado, Julia has spent the last several years in Nashville and D.C. exploring the ways in which museums are able to communicate beautifully complex narratives across academic disciplines to people of all walks of life. Formally trained in the discipline of religion and the arts, Julia incorporates iconography, material culture and reception history into all of her projects while engaging community stakeholders and creating new avenues for museums to better serve the public.
Graphic Design (B.F.A.)
Designing the Branded Artist, by Maddie Goldstein (B.F.A. '20). Designing the Branded Artist examines the ways the artists in the 20th and 21st centuries have engaged with design practices through the creation of their self-images. Artists' self-designed brands inform their commercial viability and cultural salience. The branded artist blurs the lines between art and design, offering a unique insight into how those boundaries are constructed and subverted.
Exhibition Design (M.A.)
Veera Pfaffli (M.A. '20) recalls art as always being a part of her life, as her mother was a calligraphy artist, her grandfather a fine artist and her grandmother a seamstress. After starting her career as a graphic designer in the marketing field, Veera moved toward recycled sculptures and abstract art, with an emphasis on embracing emotion through color. 

Colorscapes: well-being through feeling color is an exhibition that represents the seven well-known colors of the rainbow detached from their everyday, familiar environments and displayed in individual roles depicting physical features, functions or symbolism, forming color-saturated micro spaces called colorscapes. The colorscapes encourage personal reactions from viewers, bringing to attention the color itself and how its interpretations are able to enhance our daily well-being. Veera's work is further inspired by mental health and color theory studies.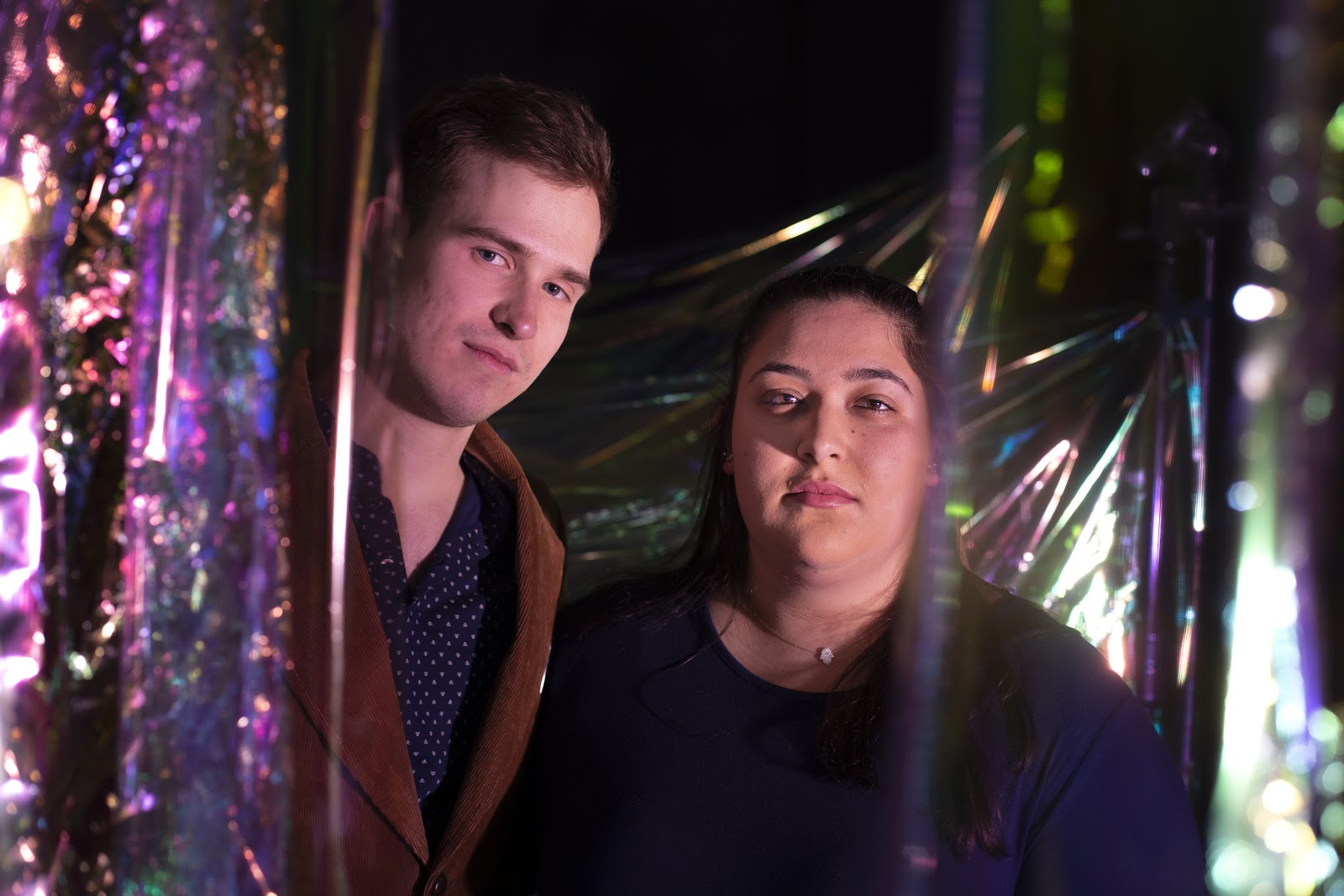 Theatre (B.A.)
Hannah Sessler (B.A. '20) knew she wanted to be an actress since the age of four years old when she got a standing ovation for her first role as Ursula the Sea Witch. She has always been inspired by how acting encourages people to consider life from different perspectives. Hannah hopes to use theatre as a tool to spur social change and shine a light on stories that need to be told. Jeremy Pinson (B.A. '20) is an actor who believes that all theatre is produced within a sociohistorical moment and that all aspects of production ㄧ from writing to casting to staging to performing ㄧ should point to exigent issues of the time. Although he came to GW as an actor, he hopes to broaden his theatrical horizons by getting into directing and writing after he graduates.
Hannah and Jeremy's joint thesis, a production called Shutterbug, is a project Jeremy has been working out throughout his college career. The live theatrical performance centers on the nature of privacy and ownership of image in the changing social and technological landscape of the 21st century.
Directed by Sessler and Pinson, the show centers around The Photographer who has been taking pictures of The Researcher, played by Sessler, without her consent. When The Photographer plans to display the photos, The Researcher finds out and seeks to destroy the entire project. The play dives into how our idea of privacy is changing in our current time, and it highlights the struggle between using the arts to enact social change and refraining from exposing secrets that were purposely hidden.
NEXT Music Capstones are the culminating projects for graduating music majors. These capstones may take the form of a recital, thesis, composition, or any combination of items, but all require an academic research component as part of the Music B.A. curriculum.