Suse Anderson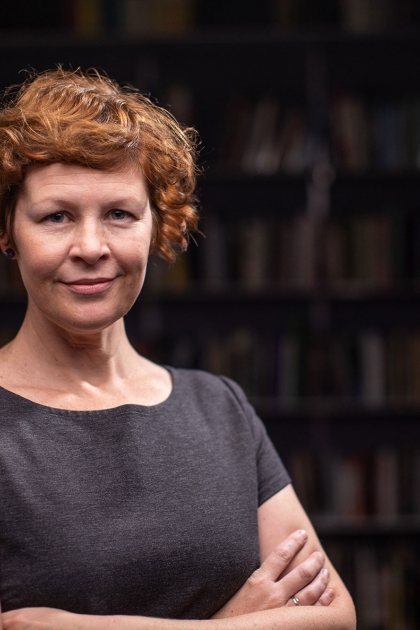 Suse Anderson
Assistant Professor & Graduate Advisor, Museum Studies
---
Contact:
Bio
Dr. Suse Anderson is Assistant Professor, Museum Studies at The George Washington University and host of Museopunks–the podcast for the progressive museum (presented by the American Alliance of Museums). Prior to joining GW, Anderson was Director of Audience Experience at The Baltimore Museum of Art, where she was responsible for creating a seamless and positive experience of the BMA for visitors to the museum and across its digital platforms.

Since moving to Baltimore in 2014, Anderson has fallen in love with the city she now calls home. You should visit her there one day, or connect with her on Twitter. 
---
Current Research
For the last decade, Anderson's work and research has focused on the intersection of museums and technology. Her more recent concerns include the ethics of museum practice. She explores on the monthly progressive museum podcast, Museopunks (Winner 2014 Best of the Web - Museum Professionals, presented by the American Alliance of Museums).
---
Publications
In 2020, Dr. Anderson published her first book, The Digital Future of Museums: Conversations and Provocations, co-authored with Dr Keir Winesmith, which 

explores the role of digital technology in contemporary art museum practice within Europe, the USA, and Australasia through a series of moderated conversations between museum practitioners, thinkers, and experts in related fields.

Chapter published in The Routledge Handbook of Museums and Media, edited by Kirsten Drotner, Vince Dziekan, Ross Parry, and Kim Christian Schrøder, 2018
Co-Editor of CODE|WORDS Technology and Theory in the Museum­–An Experiment in Online Publishing and Discourse
Her writing has also been published in CURATOR The Museum Journal, Museums and the Web 2013. Selected papers from an International Conference, and other publications.

Presented at national and international conferences, including plenary or keynote sessions at:

The UNESCO High Level Forum on Museums

American Alliance of Museums Conference

Museums and the Web

Museums Australia

MCN (Museum Computer Network) conference

Visitor Experience Conference

PA Museums Association

Texas Museums Association
---
Education 
BA (Communication-Journalism), Charles Sturt University, Australia
BFA (Hons) 1st class, Faculty Medal, The University of Newcastle, Australia
PhD (Fine Arts), The University of Newcastle, Australia
---
Classes Taught 
Museums and Digital Technology
Museum Ethics and Values
Museum History and Theory 
Critical Visitor Experience
Museums and Social Media
 
---
Professional Organizations
Current:
Vice-Chair, Congresswoman Eleanor Norton's Congressional Art Competition Committee

Program Committee for the Museum Computer Group (UK)
Previous:
2018-2019: Visiting Technologist at the Pew Center for Arts and Heritage (Philadelphia)

2018: President, MCN (Museum Computer Network), on the MCN Board since 2015

2015 - 2016: Program Co-Chair for the annual MCN conference

2014 - 2015: Jury Chair for the AAM Muse Awards in the categories of Digital Communities (2014), and Podcasts and Audio Tours (2015)

2012 - 2015: Served on the Advisory Board for the NMC Horizon Report–Museum Edition

Served on multiple Institute of Museum and Library Services (IMLS) Review Boards

Served on Advisory Board of the Open Knowledge Foundation Network Australia