By B. L. Wilson
Pat Sheridan's world of work is changing fast -- its evolution accelerated by the COVID-19 global pandemic. Modus Create, the company he started, and its team of global consultants positioned him to take advantage of those changes and aid companies transitioning to digital technology.
"Here's a guy with a degree in printmaking and painting that is running a software company, right? How does that happen?" Sheridan asks.
Sheridan's years at the George Washington University's Corcoran School of the Arts and Design, then the Corcoran College of Art and Design, were "a valuable experience in understanding that life is about learning to solve problems," a commodity highly valued by clients like Marriott, for example, which did not foresee the day when an online company that rented lodging, Airbnb, would be one of its biggest competitors.
The success of Modus Create in the transformation of work at enterprises as varied as Uniqlo, Audi and Pfizer inspired the $100,000 commitment to the Patrick Q. Sheridan '99 Endowed Scholarship to provide a need-based scholarship for an undergraduate student in the Corcoran School of the Arts and Design at the Columbian College of Arts and Sciences.

As Modus grew, Sheridan wanted to do something meaningful that was connected to his involvement as an alumnus of Corcoran. Grants and scholarships opened doors for Sheridan as a student, and this endowment will have an impact on future students' access to a Corcoran education. 
"We are so grateful for Pat Sheridan's sustained engagement with the Corcoran School and his confidence in our programs, students and leadership," Corcoran School Director Lauren Onkey said. Sheridan's engagement includes his role as an advisor to the school and his support of previous directors. Onkey is also grateful for the $10,000 contribution Sheridan made last year to the GW Cares Student Assistance Fund, which enabled Corcoran students to receive aid to help with transportation, housing, and other essential expenses so they could continue to study in a safe, secure environment.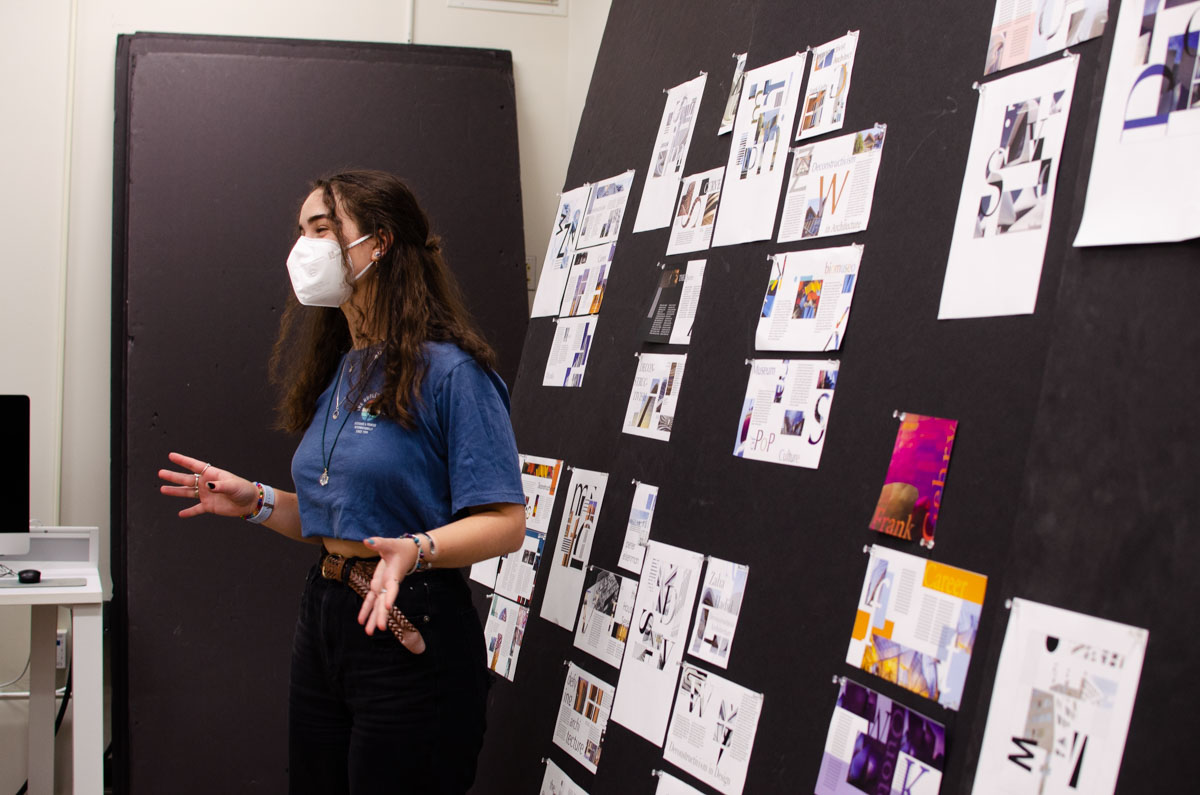 A Corcoran graphic design student presents work in Prof. Sohee Kim's Design Fundamentals II class (April 2022). Photo by Nicole Curley (Photojournalism '24).
Sheridan started out in the graphic design program at Corcoran -- he wanted to be sure he could make a living -- but then decided he wanted the full art school experience and switched to the fine arts program, volunteering in a community arts program doing murals around the city. This led to a job with an architectural firm and dropping out of college to join the company's design team, rendering buildings and using his coding skills to merge the web with interactive design.
He returned to the Corcoran to complete his fine arts degree in 1999 while continuing to do freelance artwork and design for families and businesses, eventually for startups that would become major players in digital technology. 
"A lot of companies at the time could build a website but it wasn't beautiful or engaging. My work was around creating design for people in a digital space [as I had] in an architectural and creative space."
He went into business for himself consulting for the federal government and private companies "going from 10, 20 persons to 200 person teams and [discovered] a huge opportunity in creativity, technology and design that is at a premium." He enrolled at Georgetown University School of Business to improve his skills and grow the business, completing his MBA in 2009.
Ten years ago, he sold that business and started Modus Create based on an idea called the future of work that is built around open-source projects. It's a consulting company, basically, that specializes in product strategy, design, customer experience, software development and security.
Sheridan explains that companies engaged in rethinking their organizational structures whether innovation labs, product organization or a digital services department bring in Modus to help reshape their products or services, such as Marriott, for example, wanting to get beyond just providing hotel rooms to incorporate travel experiences or Pfizer being seen as more than selling pills to creating health outcomes.
"The most enjoyable experiences I had were in and around open-source teams because they are passion driven, collaborative meritocracies," Sheridan said. "The best ideas win in an ideal setting. Open-source projects are done by volunteers, [teams of] people who collaborate to create this massive business value. I wanted to build a company in the image of those teams."
During the pandemic, he said, Modus hired 50 people in Nigeria in 90 days without ever opening an office because the company has the ability for people to get interviewed, onboarded, and supported in a 100% remote setting.
Over the last year and a half, companies faced with the reality of employees who can only work at home have turned to Modus Create which has more than doubled in size, with offices in Reston, Virginia, Missouri, Romania and Costa Rica, the number of employees growing from 150 to 500, making up teams from Germany to North and West Africa who work on open-source projects that involve "a high degree of collaboration in the shared workday of clients as if they are in the same room virtually."
For Sheridan, Modus represents a movement that allows companies to tap into the talent of people around the world, creating opportunities for many who are self-trained and have access to the internet and information.
"I'm trying through Modus and my own kind of giving to focus on ways to get design students and creative students… through networking or other support to think a bit more broadly than just narrowly within their field of discipline," said Sheridan.
He keeps a sketch pad close by and has stayed in touch with friends from his Corcoran days. Some are galleried artists in New York City and Paris. Others are running big design teams for companies. In some way Sheridan said they are advocates for the future that integrates the Corcoran School of the Arts and Design into the broader GW experience.  
Open Doors: The Centuries Initiative for Scholarships & Fellowships charts a course to expand opportunity for the next generation of leaders at GW. Please consider expanding access to the transformative power of education by supporting Scholarships in the Corcoran School.
Read More: Alumnus Pat Sheridan (BFA '99) Donates to Corcoran Students Facing Pandemic Hardship