Alumni Valentines
Originally published on alumni.gwu.edu
In Their Own Words: Curtis & Nancy
Thanks to Curtis Bateman, CCAS MA '08, and Nancy (Perschbacher) Bateman, CCAS MA '07, for sharing their story!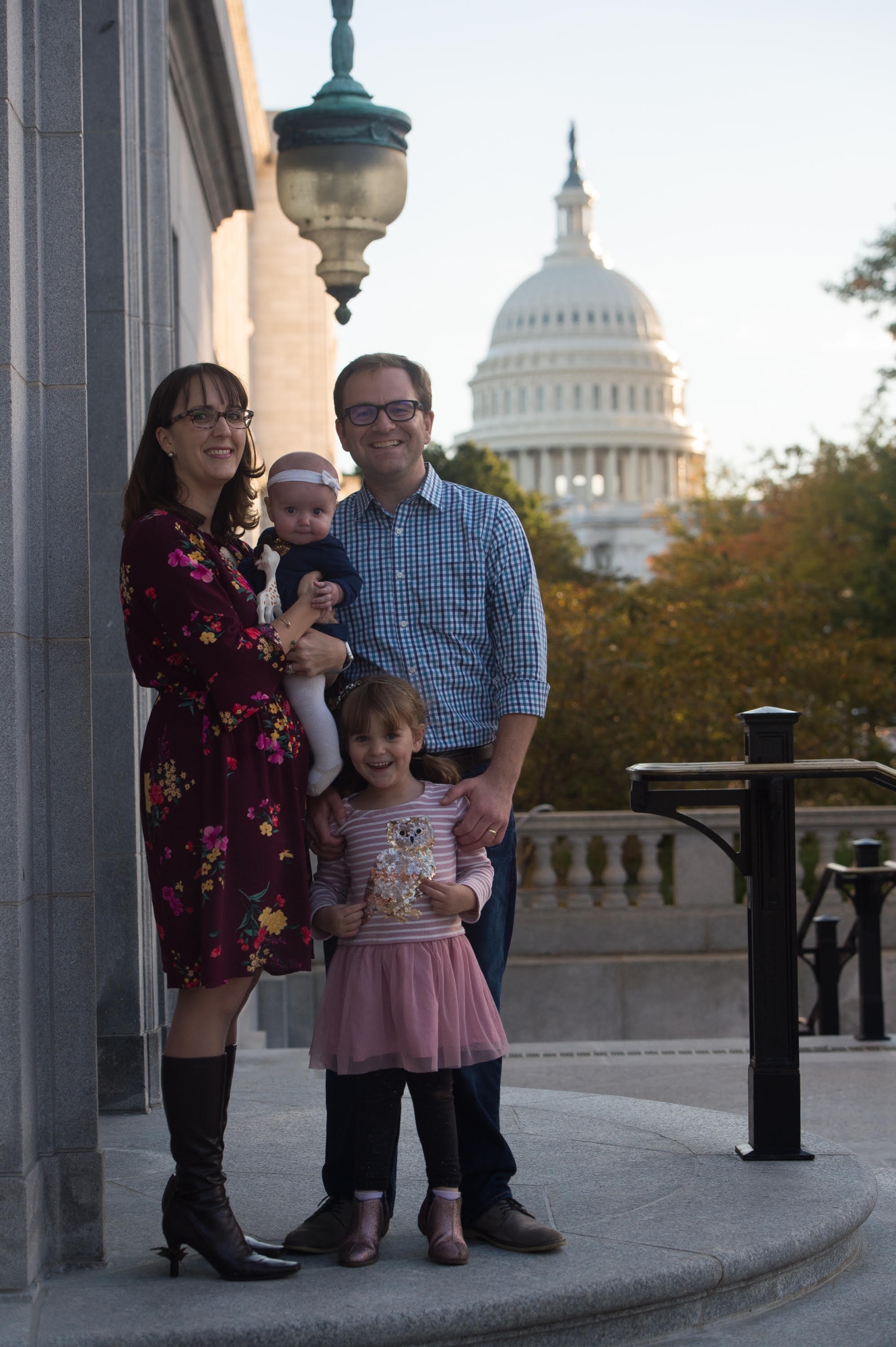 Where did you meet?
Fall 2005, during the campus tour on the second day of orientation.
Curtis: I slept through the first day of student orientation, thinking that the second day was actually the first. Whoops. In hindsight, it was a good way to make an impression since I arrived as this "mysterious" new guy in a class comprised of only 10 men and 40 women. During the tour, I made a joke as we entered the Shops at 2000 Penn. I had never been there before, so when we entered what I thought was a row house but inside was a massive market square, I shouted "What is this place, Diagon Alley?" referencing Harry Potter. Only a few people laughed, but one of them was Nancy. It was a good sign! We shared lunch with a few other classmates and eventually ended the tour at the library. I sat at a computer terminal checking my email when Nancy came over, tapped my shoulder, and said she hoped to see me around. She didn't stop to chat and kept walking, so I quickly turned around and replied the same. I tried to recall her name but, like an idiot, I completely forgot it.
Nancy: Curtis showed up the second day of orientation and just breezed right in acting like he hadn't skipped a beat. We all sort of laughed and said, "who does this guy think he is?!" But, it was just my first experience seeing him roll with the punches and assimilate himself into a group seemingly effortlessly. He was making jokes and chatting with everyone throughout the tours and sessions. Within a few minutes it felt like he'd been with us from the start.
What were your first impressions of each other?
Curtis: I thought Nancy was striking, fashionable, very intelligent, and quite professional. She was out of my league! Unfortunately, we didn't share any classes that first semester. But after a few weeks, a mutual friend and classmate named Erin Blasco just happened to invite both of us to a birthday party for her roommate's boyfriend… or something. Erin quickly became the third wheel as Nancy and I dominated the conversation and geeked out about Indiana Jones, Star Wars, Harry Potter, Lord of the Rings, etc.
Nancy: Curtis had spent the entire summer outside teaching swimming and boating at a boy scout camp. He had long hair, bleached by the sun and was tan and super relaxed. He looked and acted nothing like the rest of the guys in Washington, D.C. Between missing orientation and then clearly forgetting my name, I figured he was sort of a flake. Whoops! He's actually a very focused and dedicated person, he's just also very chill and funny. I had no classes with him but somehow all my friends did and they kept telling me about this great, funny, super smart guy, Curtis. When we finally got to hang out at that friend of a friend's birthday party I realized we had so, so much in common both academically and personally.
Do you have an #onlyatGW moment that you shared as a couple?
Soon after we started school at GW, the museum studies department hired a new office manager, Mariko Murray. Nancy was head of the museum studies student's association and was in the office all the time, and Curtis is just friendly with everyone, so we quickly became close with Mariko. She guided us through our time at GW academically and personally. Since we lived in Foggy Bottom after we graduated, we'd come by the office often with our dog, Triley, to check in with her and chat. She came to our wedding in 2010 and was over the moon about the birth of our daughter in 2014. I remember an alumni holiday party where she just carried our baby around the whole time while we got to chat and mingle with our friends.
Mariko became a part of our family and neither of us experienced a closeness or devotion anywhere like that at our universities. She was a shining example of how one person can really make a difference, even at as big a school as GW. When she passed away everyone in the department, former and current students and professors, came together to celebrate her life and work. We'll always remember that.
Tell us about your last visit to campus, or how the school has remained important in your life.
In 2016 we attended an alumni party at the George Washington University Museum and The Textile Museum while a museum conference was in town. Several of our good friends and former classmates had flown in for the conference so it was a mini reunion of sorts. So much had changed: most of us are married now and have kids, we've all moved to museums around the country, the department is full of new professors and museum studies had a new office. But at the end of the day we were just the same group of kids that flocked to D.C. for an adventure over a decade before. Our daughter Penny, then a wild two-year-old, was busy running around the grass area in front of the biology dept. to the amusement of our friends and colleagues. I think we got scolded by a guard for carrying alcohol past the barrier of the party and we all chuckled to ourselves. The more things change, the more they stay the same. It was a great day.
Anything else you'd like to share?
We met in 2005, married in 2010, welcomed our first daughter Penny in 2014 and our second daughter Zelda in 2018. We live in Alexandria, Virginia. Curtis is the museum curator at the headquarters for the International Brotherhood Electrical Workers (IBEW) in D.C. Nancy is the artifacts registrar at the National Building Museum in D.C.
In Their Own Words: Larry & Nakeya
Thanks to Nakeya Brown, CCAS MFA '17, and Larry W. Cook, CCAS MFA '13, for sharing their story!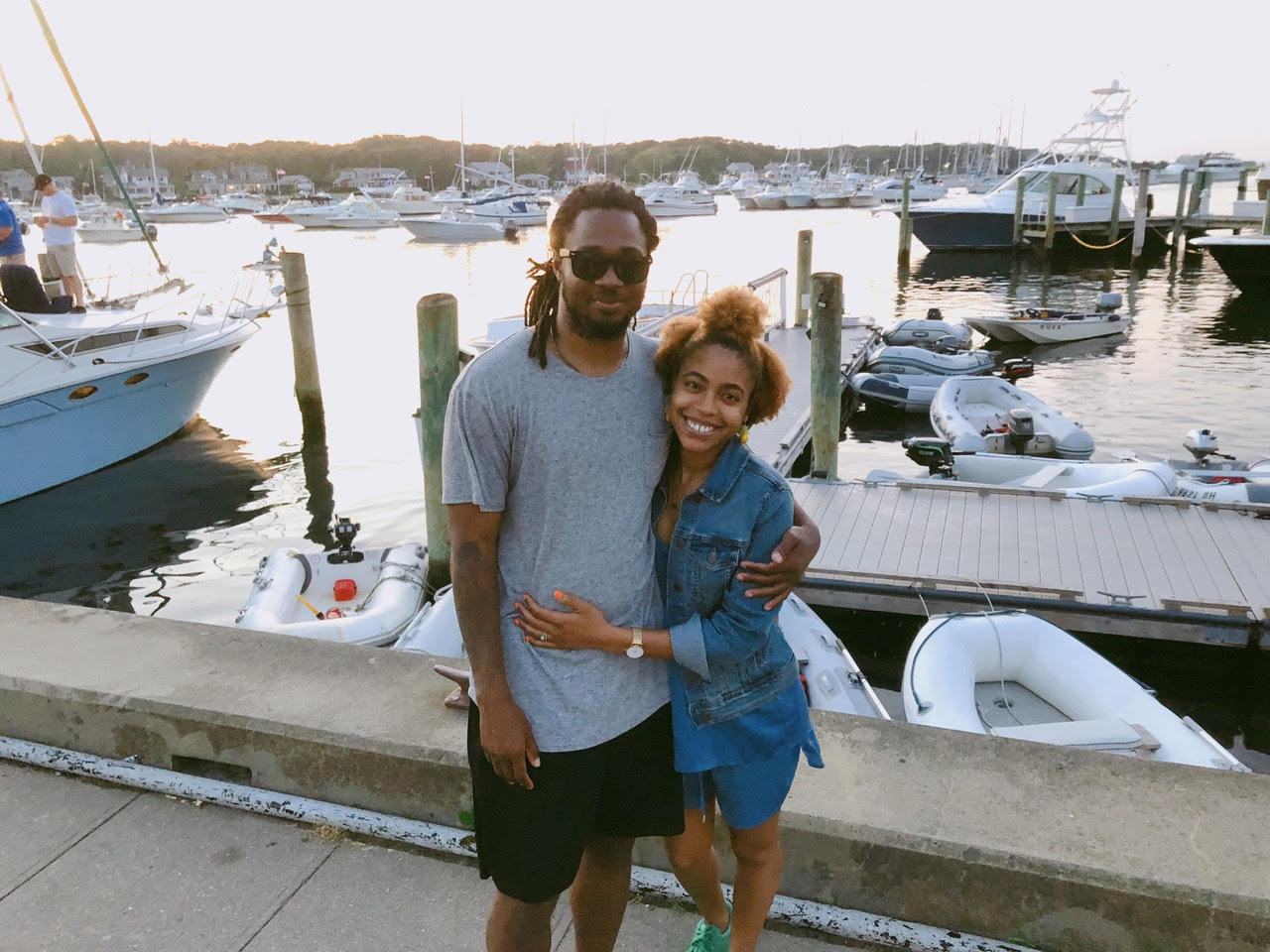 Our commitment to our photography practices led to our paths crossing. Larry and I first encountered each other in a professional practice course I was enrolled in. My professor selected him to be a guest speaker for the class, which focused on strengthening professional habits of artists. Larry and I kept in touch afterwards and would catch up at art openings on and off campus.
One summer evening, Larry and I ran into each other at Hamiltonian Gallery on U Street [in Washington, D.C.]. He invited me to his opening reception in Baltimore, which was taking place the next day. I accepted. After the reception ended we went out for dinner at Brew House No. 16, and that would be the first of many dates. Larry and I were inseparable!
The couple in Martha's Vineyard during an artist residency.
On International Women's Day the following year he proposed, and two months later – on my graduation day – family and close friends celebrated our marriage.
We are now settled outside of D.C., raising our family. Larry is a professor at Howard University and I teach in Montgomery County. Larry and I walked away from GW with more than degrees – we walked away with eternal love for one another. We wouldn't trade that for the world.
***
Nakeya and Larry are both accomplished artists. One of Nakeya's pieces was featured on season one of the HBO series "Insecure," produced by Issa Rae. Larry is a former Hamiltonian Artist and has two forthcoming solo exhibitions in Michigan and Maryland. 
In Their Own Words: Katelyn & Michael
Thanks to Katelyn Manfre, CCAS MFA '16, and Michael Thomas, CCAS MFA '16, for sharing their story!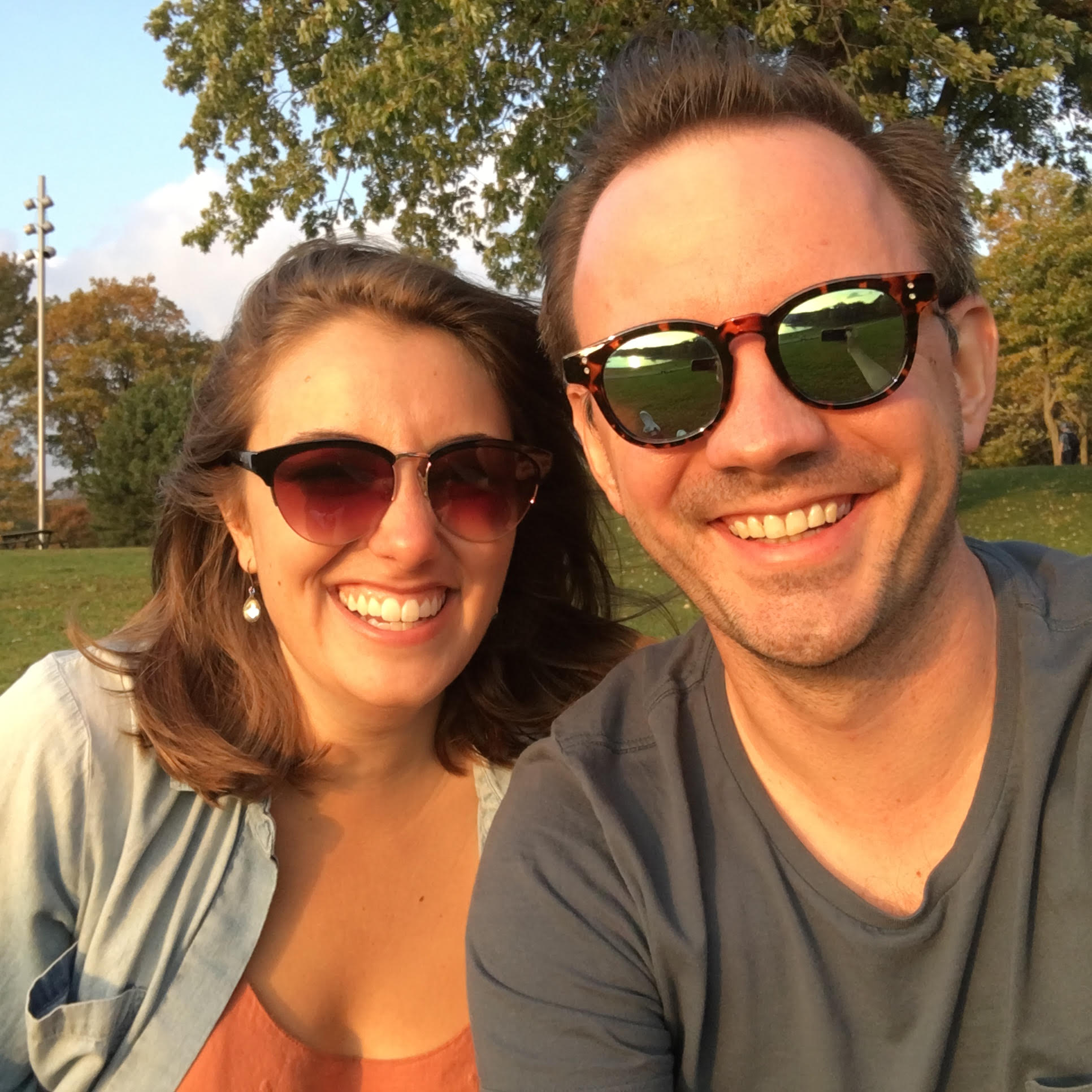 Where did you meet?
We met our first day at the Academy for Classical Acting. You may not know the program—or the building itself—exists! It's a one-year Shakespeare-focused master's program offered in partnership with the Shakespeare Theatre Company. All of our classes took place in a cute building, set back a bit on G Street NW, just behind the famous deli. Participants spend 11 months studying the language, craft, and historical context of Shakespeare and his contemporaries. We got to take classes like stage combat, pilates, clown, and comedy—it barely feels like school. We both had a blast and learned a ton.
What were your first impressions of each other?
We're both originally from New England and somehow had to go all the way to D.C. just to find another Yankee. The two of us ended up on a lot of "accidental dates" during our first few weeks of school and, over drinks and tacos and play tickets, learned that we have so much in common. Both of us went to acting undergrad programs and went on to start our own theater companies. We both hate mushrooms (it's a texture thing), and have younger sisters named Emily. We also have very similar values, senses of humor, and long-term goals. Plus acting school is a truly insane way to break the ice—if someone has watched you physically act out "fire" or do vocal exercises or be a literal red-nose clown and they still want to hang out with you all the time, then you're set for a while.
Do you have an #onlyatGW moment that you shared as a couple?
The very first scene assignment we got was as Hamlet and Ophelia. We spent a lot of evenings staging the scene and working on our lines. It was so awkward—both of us trying to figure out the nebulous relationship dynamics of this famous Shakespearean pair, while pointedly avoiding talking about our nebulous relationship dynamic. It did make for a great performance though!
As the year—and our relationship—progressed, we chose to pair up a few more times; most notably for a stage combat scene where we fought with broadswords and staged a really brutal death for Mike.
We also just want to take a moment to celebrate Tonic, a bar whose tater tots and happy hour specials kept us sane all year. Every time Kate would cry in class (a common occurrence in acting school), Mike would sponsor a post-class date where we could knock back some totchos, unwind, and leave feeling recharged enough to do it all again next week.
Tell us about your last visit to campus, or how the school has remained important in your life.
The program we participated in was really unique, and helped us make some wonderful friends and connections in the larger D.C. theater community. It's a big reason we both decided to stay here after graduating. Because it's a one-year cohort, it's hard to get to know previous participants in any formal way, but as we work with new actors and directors, we've found so many alums in unlikely places! Mike did a production of Twelfth Night last summer with the Alchemical Theatre in Wilmington, North Carolina with a handful of alums from our program that he'd never met. He was cast by the director, Christopher Marino, CCAS MFA '02, without an audition. He had an inherent trust that we all have a common vocabulary. As we grow our careers here in D.C., it's exciting to know that there are so many of us working and creating together. If you've seen a play in the DMV, chances are you've seen a graduate of the Academy for Classical Acting at work!
In Their Own Words: Denny & Jackie
February 21, 2019
Thanks to Denny Henry, CORC BFA '07 and Jackie Henry, CORC BFA '10, for sharing their story!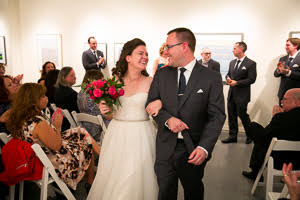 Where and how did you meet?
Denny says that we met at the registrar's office. I say that we met by the "free bench," a place where you could always find something you didn't know you needed. I guess it's still up for debate.
What were your first impressions of each other, and how did your relationship grow?
Jackie: I thought Denny was really handsome. He was a really talented photographer and he drove a sweet old Volvo. After three years at the Corcoran, multiple apartments, one rescue dog, and our first house, Denny proposed. We've been together for over a decade. I can't imagine life without him.
Denny: I thought Jackie was a passionate and talented photographer who took pride in her work and cared about the people she met. I can't add too much to what Jackie said, but we stayed in D.C. to be together after graduation, and it was the best decision.
Do you have an 'only at The Corcoran' moment that you shared as a couple?
For our second date, Denny scored tickets to the Annie Leibovitz opening reception. As we arrived and walked up the Corcoran's famous staircase we turned around to see Annie leaving the show. It was such a memorable night. Denny joked that he wouldn't ever be able to top that date.
Tell us about your last visit to campus, or how the school has remained important in your life.
The Corcoran is so special to us. We chose a small art gallery for our wedding ceremony in honor of the place that brought us together. We were so happy that so many of our Corcoran friends and several professors celebrated with us at our wedding.
Anything else you'd like to share?
We both transferred from other colleges. I transferred from a small college in Boston and Denny transferred from a college in sunny Florida. I still think about how lucky we are that our paths crossed.
In Their Own Words: Amber & Eddy
February 06, 2019
Thanks to Amber Boris, CORC BFA '17, and Eddy Aldana, CORC BFA '17, for sharing their story!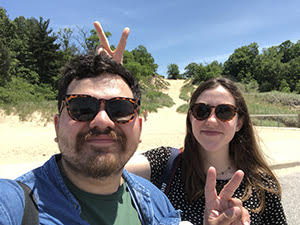 Where did you meet? 
Amber: We met at the Corcoran building during freshman orientation. I remember he was at the same table as me and the red hat he was wearing.
Eddy: I don't remember much from the orientations, but we had the first two classes of our first semester in college together.
What were your first impressions of each other?
Amber: I couldn't stop thinking about him after orientation! I thought he was the most beautiful person I ever saw, and I remember really liking the way his voice sounded. He was a sculpture lab tech, and I used to go in almost every time he was working to work on my projects (even though they didn't need that much work), just so I could talk to him. I think that's where I got to know him the most. The first time we hung out [outside of school] was at the Corcoran apartments 2424 Penn and we made doughnut burgers and then watched a bunch of videos together, and I remember laughing a lot.
Eddy: Amber remembers me better than I remember her during those first few weeks of school, but I thought she looked really cool. Her hair was really short then, and she wore a lot of bright colors and cool clothes. I hoped we'd get to know each other. I remember that we used to laugh a lot at everything and make jokes in class, even though we didn't know each other that well. We ended up liking a lot of the same music.
Do you have an #onlyatGW/Corcoran moment that you shared as a couple?
Our first year was the only year that we were at the Corcoran before it got became part of GW. During my sophomore year I lived at Mitchell Hall and Eddy would come over a lot to hangout. We remember going downstairs to 711 and getting Ben & Jerry's to share. We also remember making pulled pork and mac and cheese from Trader Joe's and eating on the roof looking over 19th street and the monument. One time, Eddy pulled up in front of the building right when the fire drill was going off, so I got to wait in his car during [the drill], which was funny.
Tell us about your last visit to campus, or how the school has remained important in your life.
The last time we were at the Corcoran together was to see the 2018 NEXT thesis show. Eddy also had a piece in the Transformer Auction this past November at the Corcoran. It is always nice to go back and support the other students in the school.
Anything else you want to share?
We are in the process of applying to grad schools together and hope to attend MFA programs in fall 2019. This is going to be our fifth year together. Our first Valentine's Day together in 2015, Eddy took me to eat pupusas near his house in Maryland. It had started to snow hard while we were eating. On our way back it was dark, and his car got stuck in the snow going up a hill near the park that is right by his house. We had to get out and walk across the park in the snow to his house, with a blanket from the car and the leftover pupusas to keep us warm. This is a memory we love looking back on and laughing. We plan on eating pupusas this coming Valentine's Day, just like our first one together!