As part of this year's #GivingTuesday, a global day of giving, we are sharing inspiring stories from across the Corcoran. These incredible students have been the recipients of generous awards and scholarships this year. #GivingTuesday starts the charitable season, when many focus on their holiday and end-of-year giving. Past gifts made on #GivingTuesday have strengthened student aid, research and student life at the Corcoran. Thank you for making a difference in the lives of our students.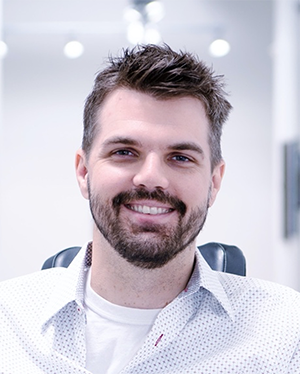 Wesley Holloway (Social Practice, MFA '22), an artist, educator, and activist, is a talented painter whose work investigates how society responds to the human form. Sexuality, grotesque beauty, body ideals, and vanity are some of his themes. In 2003, he suffered a traumatic spinal cord injury causing him to lose the use of his legs, abdomen, and hands. In the artist's own words: "As a man with a flawed body myself, I ask, 'What is perfection, and what is truly beautiful?'"
Mr. Holloway was a recipient of the Martha Von Hirsh Memorial Scholarship and Morris Louis Scholarship. "The power of such a meaningful financial contribution cannot be stated enough," he said. "It has opened up the opportunity to study under and alongside some of the most inspirational colleagues. Attending GW puts me in a place where I can strengthen my knowledge of policy to a depth otherwise unattainable. Then, I am able to effectively tie my artwork into the issues, with the hope that I will create meaningful change in viewpoints and legislature. Complex problems demand creative strategies, so I am beyond grateful that these scholarships given me the ability to uplift my voice."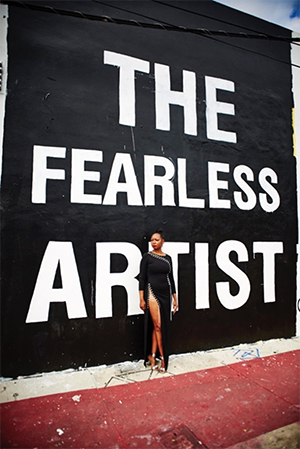 Lakia "Kiki" Somerville (Social Practice, MFA '22) is an art presenter and social impact entrepreneur. She holds a J.D. from Fordham University. After practicing law for many years she founded The Fearless Artist in 2011. The Fearless Artist empowers mission-driven artists by providing them with access to coaching, community and art buyers who want to support social change. 
Outside of Kiki's work with The Fearless Artist, and full time MFA in Social Practice studies at GW, she is a founding member and co-chair of the Holton Arms Black Alumnae Union, which focuses on creating community among the black students, their families, and alumni, though mentoring and enrichment programs. 
Ms. Somerville was a recipient of the Edna Wattis Dumke Memorial Scholarship Endowment and Morris Louis Scholarship. Of the impact of this award, she said, "The award, which has provided me the opportunity to learn and collaborate with others, is made so much more meaningful because it is in furtherance of my passion to help artists that want to make the world a better place."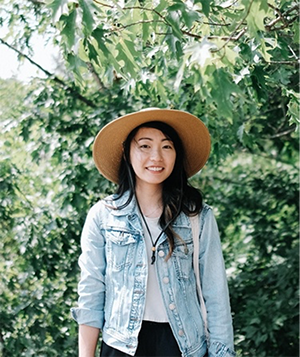 Adele Kenworthy (Social Practice, MFA '22) (she/her) is a first-generation immigrant, woman of color, and artist activist. Her interdisciplinary creative practice aims to build fluid, immersive and collaborative spaces fostering a dialogue that activates art as the catalyst for cultural change.
Ms. Kenworthy was a recipient of the Hortense Mae Boutell Scholarship and Edna Wattis Dumke Memorial Scholarship Endowment. "Through the generous support from the university, during my time at the Corcoran, I have been able to explore in my practice, art that dwells in the disparate spaces between pain and healing — unveiling lost narratives residing in those moments of transition," she says.
"I am currently working on two projects that exists in these liminal spaces in my Motherhood series: a portraiture piece of families who identify as undocumented, displaced, and seeking asylum that have or are currently experiencing separation along the US and Mexico borders; and a floralscapes piece — large scale installations of living flowers draping vacant and abandoned buildings across Baltimore, DC, and beyond." You can see more of Ms. Kenworthy's work on her website, The Meowing Bird.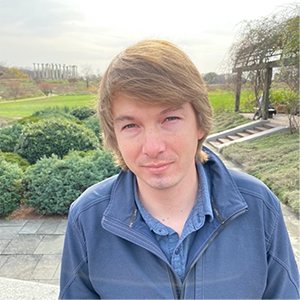 Andrew Kastner (Exhibition Design, MA '22) came to GW's Corcoran School of the Arts and Design to further diversify his skillset in exhibition design. Andrew's background is in exhibit fabrication, with an emphasis in digital fabrication techniques. He plans to further develop his skills on the design and concept side of exhibit production during his studies in the Masters of Arts in Exhibition Design program. Andrew has also contributed to the Corcoran's fabrication lab by helping create tutorials for other students to promote more access and better understanding of the process of translating a digital 3D model into a file that can be read by the laser cutter for producing physical 3D models.
"With the help of the award from the Richard Lahey and Carlotta Gonzalez Lahey Fund, I can attend GW where my world has opened to a wide range of new experiences," he says. "Learning from and with a diverse set of peers, being presented opportunities to work and connect with established artists like Paul Rucker, and even partnering with other students across multiple disciplines to realize exhibitions at the Corcoran. All these collaborations drive me to keep expanding my knowledge-base and skill-sets as a future exhibit designer."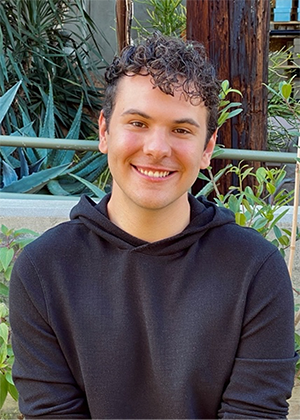 As Todd Neblett (Interior Architecture, BFA '22) was looking for colleges to apply to, he knew he wanted an education that would give him new perspectives, a chance to engage with the local community, and access to professors respected in their field. "The moment I stumbled upon GW's website during my search, it was clear, GW was the one," he said. "As I read more and more about the Corcoran's history, the programs available, and the faculty currently teaching, my excitement only grew."
Mr. Neblett applied for the Corcoran Scholars award and vividly remembers the day his interview took place with the Interior Architecture faculty. "That day, I made my first connections at GW with professors who would become some of my greatest influences," he says. He was awarded the scholarship. "Now, in my third year of a BFA program, I'm grateful for the memories I've created at GW and the bonds I've made with my classmates in studio. Along with my degree, I've had the opportunity to minor in Sustainability and am proud to be equipped to build a cleaner, safer, and more sustainable future through architecture and design."
"What started out for me as some sketches and scribbles as a kid has turned into an opportunity to change lives," he says. "The built environment influences how people learn, work, play, and live.  Solving complex challenges with the spaces that people interact with every day has the potential to make the world we live in more equitable."
Emma Zihal (Interior Architecture, BFA '22), originally from New Haven, Connecticut, showed strong promise in her first studio classes and was awarded the Interior Architecture Share Fund Start-Up Scholarship. To apply for the award, she filmed a short video that explored why she had chosen to declare an Interior Architecture major. "I started the major late during my time at GW," she explains. "When I found out about this scholarship opportunity, I felt inspired to understand just why I wanted to pursue this field. I filmed the video in my dorm room in Shenkman Hall, with the view of the sun setting over the National Mall. I talked a bit about my inspirations and inclinations toward architecture and interior design."
Receiving the award provided Ms. Zihal not only with materials and tools that she needed for the new adventure she was about to embark on, but also gave her confidence that she was on the right track. "I'm really thankful for the help I received from the GW community. This was a year ago, and now I can still say I am confident that I am following my passion. I couldn't be happier that I was met with open, giving arms at the start," she says.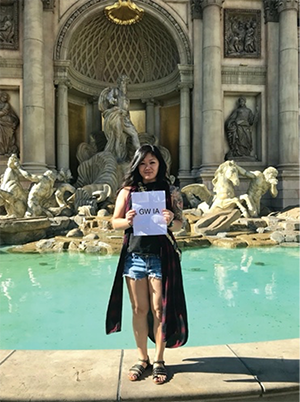 Melany McGillvray is a Master of Fine Arts candidate in Interior Architecture ('22). She entered the Interior Architecture program after already having pursued advanced education in physics and a supervisory-level career in the federal government. Although she did not have a design background, her professional experience allowed her to execute her projects clearly and efficiently. Melany was a recipient of the Interior Architecture Share Fund Startup Scholarship in 2019, an honor that is awarded to students who show outstanding promise in their 'Studio 1' class. "For a while, I really struggled with the notion of 'concept,'" she says, "The design field is so different from the sciences: the approach and especially the process. It wasn't until the Kit of Parts project in Graduate Studio 1 that I understood and explored the fact that an architectural concept could make you feel something, emotionally."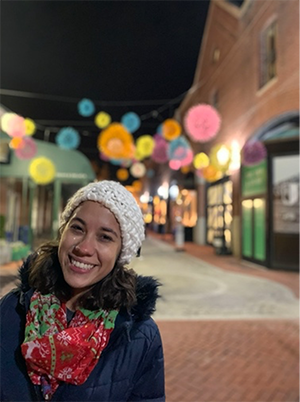 Nicole Casart (Museum Studies MA, '21), born and raised in Hawaii, had many professional experiences in Washington, D.C. before starting the program, including working on the Hill, interning at the White House and volunteering at the National Museum of Natural History. In Museum Studies, her studies focus on how to engage visitors and make museums more welcoming to diverse groups of people. She is especially interested in how museums can make their collections and staff more representative of and accessible to the communities they serve. Ms. Casart was a recipient of the Dean's Fellowship, which allowed her to intern at the U.S. Botanic Garden in Washington, D.C. "I researched and drafted an interpretive plan for activities to teach visitors about the evolution, biodiversity, and cultural importance of native Hawaiian plants. The internship was unpaid, but thanks to the Dean's Fellowship, I was able to take advantage of this amazing opportunity," she said.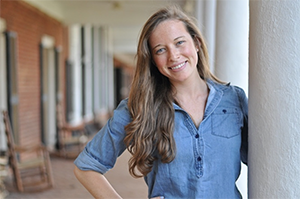 Caitlin Hepner (Museum Studies, MA '20) has a background in anthropology and started her career at Thomas Jefferson's Monticello. While caring for the objects on display in the historic interiors and in exhibits there, she fell in love with the field of museum collections management. She is passionate about preserving the tangible pieces and places of history so that people of the present and future will have an opportunity to experience the past up close. After five years at Monticello, Ms. Hepner began her degree at the Museum Studies program at GW. Through the program's rigorous curriculum, she received an education in the legal and ethical foundations of museums as well as the practical applications of collections management. She also pursued a variety of internships and part-time work opportunities, including assisting with collections inventory projects for the National Park Service and Smithsonian National Museum of Natural History, conducting database and registration projects for the Smithsonian National Air and Space Museum, and working as an Events and Public Programs Assistant at Dumbarton House in Georgetown.
Ms. Hepner was awarded the Dean's Fellowship based on her academic excellence and professionalism in the field. "Receiving the Dean's Award was a tremendous honor, and frankly a gift," she said. "The award made my dream of attending graduate school financially possible, so I could continue advancing on my chosen career path and grow as a professional. It afforded me the freedom to leave my full-time job so I could take the time to fully immerse myself in my studies and take advantage of the robust professional opportunities offered through the program as well as the vibrant museum culture of Washington, D.C. With the training I received at GW, I am eager to step back into the museum world as a leader, taking an active role in safeguarding our nation's cultural heritage and making it accessible to the public. I would like to express my most sincere gratitude to have been given this key, which has opened the door to so many exciting experiences and opportunities already."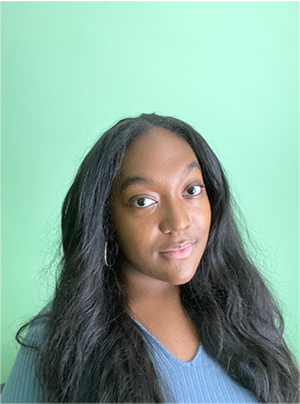 Hannah Sturgis (Theatre & Journalism and Mass Communications '21) was raised in Smyrna, Delaware and is a recipient of the Corcoran Scholars award. She started off her GW career on the Mount Vernon campus as a member of the Women's Leadership Program in International Arts & Culture, where she realized how vibrant and exciting the city was for someone who wanted a career in the arts. In her time at GW she has been a part of numerous Theatre and Dance productions as both an actor and designer and was most recently seen starring in Antigone by Sophocles as Ismene. She notes that the Corcoran Scholars award program has helped her pursue her own artistic endeavors. She is starting an Honors thesis project which will be shown in the spring of 2021 and is looking forward to seeing her work over the years culminate in a theatrical performance that she has written and performed by herself. "It is extremely important and validating as an emerging artist to feel supported not only by this scholarship but also by the faculty who have guided me over the years," she says. "My passions are meaningful to me and so the investment in them and my education have shaped me into the artist I am today and hope to become."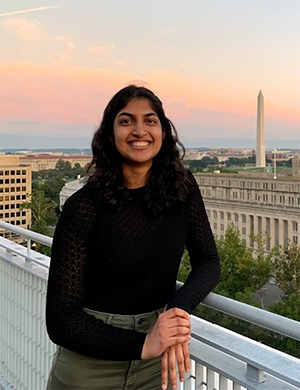 Laya Reddy (BA '22) is majoring in Political Science and Music, and minoring in Africana Studies and Women's, Gender, and Sexuality Studies. In her hometown of Phoenix, Arizona, she played trumpet in several musical groups, including concert band, jazz band, orchestra and brass ensembles. She also led her high school marching band as drum major for two years.
Ms. Reddy is a recipient of the Corcoran Scholars award and Steiner Scholarship. She is involved with the band and orchestra at GW, and also formed a brass quintet in her first year at the university. She appreciates the many performances and concert series set up by the GW music department, and especially loves the bi-weekly Fridays at Five performances. "Fridays at Five is a great opportunity for students to perform their works in front of a kind and receptive audience. I've enjoyed playing at these performances, as well as learning more about other Corcoran students' works," she says. She is excited to continue working with the welcoming and supportive music community at GW in the coming years. 
---
Your support has enhanced the lives of countless students and Corcoran community. Your gifts to the Corcoran School of the Arts and Design provide support for student scholarships and research, Corcoran exhibits, graduate student fellowships and academic enrichment activities, including guest speakers, visiting artists/scholars and symposia. Each gift, no matter how large or small, makes a positive impact on our educational mission and furthers our standing as one of the nation's preeminent arts schools at one of the world's most respected universities. Find out more ways to support our students.