Malinee Peris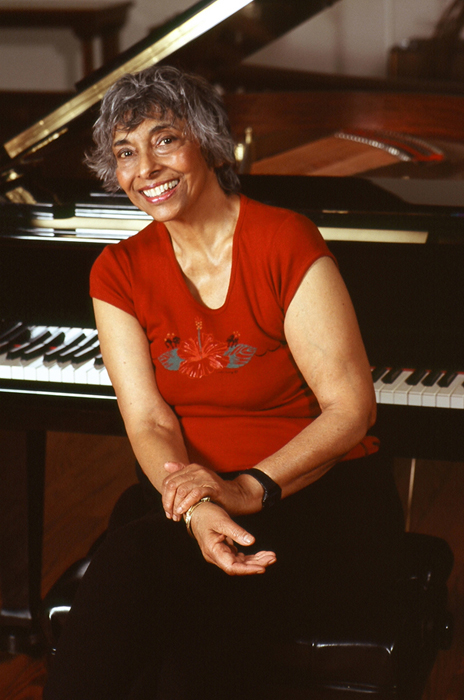 Malinee Peris
Professor Emeritus of Piano, Music Program
---
Contact:
Sri Lankan–born Malinee Jayasinghe-Peris teaches piano at the George Washington University as Professor Emeritus of Music. She was the Coordinator for Keyboard Studies for many years. In addition to teaching piano, she coaches Chamber Ensembles.

Professor Peris began her formal music studies with her music teacher (and mother) Frances E. Peris at the age of 4. She continued her training with Ms. Alix Cockburn who presented her at her debut piano recital in Colombo, Sri Lanka, when she was 12. Her teacher in violin performance at this time was Eileen Prins. The Times of Ceylon newspaper and the Government of Sri Lanka awarded scholarships to Ms. Peris to enable her to continue her musical studies in Europe. She studied at the Royal College of Music in London as an Associated Board Scholar, where her teachers were Lance Dossor (piano), Isolde Menges (violin), Dr. Ivor James (chamber ensemble) and Dr. Herbert Howells (harmony and composition). She has had classes with Henryk Stompka in Poland, and Leon Fleisher, Earl Wilde, and Ilona Kabos in the United States. The musician who had the most influence on her performance and musical education was Hungarian-born virtuoso Louis Kentner, who was her teacher and mentor for over 20 years.
Prof. Peris was a prize winner at the International Chopin Competition in Warsaw, Poland, and her career as a concert pianist has encompassed recitals in cities worldwide, including London, Amsterdam, Brussels, Cologne, Lisbon, Lausanne, Mexico City and Montreal. Ms. Peris was invited by the Secretary General of the United Nations to play at the concert marking the 22nd anniversary of Human Rights Day in the General Assembly Hall of the UN.

She has toured the People's Republic of China, the former Soviet Union and former Yugoslavia and has played extensively in Asia and Australia. Her concert tours included solo recitals, concerti with orchestra, and concerts with a chamber ensemble group. The Prague Spring Festival was among the many European music festivals at which Ms. Peris has performed. She was frequently featured as soloist under the auspices of the Gulbenkian Foundation during her extended stay in Portugal. She has played with major American orchestras — including appearances at New York's Lincoln Center and Washington, D.C. — as well as with orchestras in Europe, Israel, and Australia.

Prof. Peris conducted a program of lectures on Britain's independent television station ITV entitled "Music as an International Language" and has recorded for the British Broadcasting Corporation and Germany's radio and television network. She has been a frequent performer on Belgium's "Radio Three" program.

In February 1993, Prof. Peris was honored by the country of her birth when the President of Sri Lanka bestowed on her the title of "Kala Keerthi", the country's highest award for excellence in the arts. The Sri Lanka Foundation of America presented Ms. Peris with a Lifetime Achievement Award in November 2007.

Among her other activities, Professor Peris has reviewed for the Washington Post and was on the board of "Dumbarton Concerts" which, in addition to its chamber music series, operates the "Inner City-Inner Child" program for the benefit of disadvantaged children in the city. She has been a Lay Eucharistic Minister and Reader at the Washington National Cathedral for many years.

Ms. Peris has produced CD recordings of her work. Her first CD, "Ravel/Debussy" was released in 2002. Her second, "From Portugal to Brazil" was released in 2003 featuring Portuguese and Brazilian piano music. Regarding this CD, the American Record Guide says "she plays with a refinement and depth of sonority beyond the grasp of the recent competition." A CD of Spanish and Mexican works entitled "From Spain to Mexico" was released in 2005. Her fourth CD featuring special musical pieces for children, entitled "A Child's Garland of Music," was released in September 2007. These CDs are managed by Brioso Records.

As a breast cancer survivor, Ms. Peris found that playing some of Chopin's works became especially meaningful to her during her treatment.  A fifth CD  featuring these works, entitled "A Journey from Darkness to Light with Chopin" was released by Amico Artists in 2010.

In private life, Ms. Peris was married to the late Hon. D.A. (Algy) de Silva, Sri Lankan Ambassador to Belgium and the European Union. She has 3 children who are physicians in the United States.

Ms. Peris is a Steinway Artist.
Overcoming Obstacles as Musicians of Color: Creating Diversity in Classical Music
Education
FTCL (Fellow of the Trinity College of Music London)
LRAM (Licentiate of the Royal Academy of Music London)
ARCM (Associate of the Royal College of Music London)