Lisa Lipinski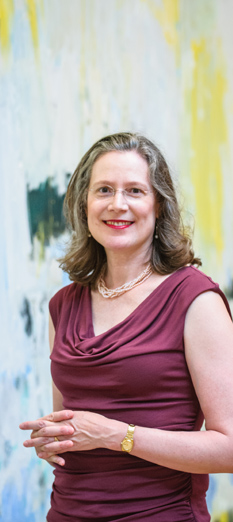 Lisa Lipinski
Associate Professor of Art History, Art History Program
---
Contact:
Smith Hall of Art, Rm. 106B, 801 22nd St NW
Washington DC 20052
Lisa Lipinski's teaching and research interests include theoretical approaches to the visual arts, the history of photography, and the body in modern and contemporary art. Her professional experience includes working in major art museums: the San Francisco Museum of Modern Art, the Phillips Collection and the Smithsonian American Art Museum. She has contributed essays in museum catalogues on Pierre Bonnard, 19th-century American and French painting, as well as Spanish and Flemish paintings in the Prado. She provides regular guest lectures on art and diplomacy for the Foreign Service Institute, U.S. Department of State. Dr. Lipinski is also a licensed D.C. tour guide and a member of the Guild of Professional Tour Guides, Washington, D.C.
---
Current Research
Space and place in the photography of Sally Mann
Essays on the art of Magritte and Surrealism for the Palgrave Encyclopedia of the Possible
Photography and photographers based in Washington, D.C.
---
Publications
Published essays in museum catalogs on Pierre Bonnard and 19th-century American and French painting, as well as Spanish and Flemish paintings in the Prado, including:
René Magritte and the Art of Thinking (Routledge Press, Research in Art History, 2019)
"Encouraging American Genius: Creative Exchange at the Corcoran Gallery of Art and the Corcoran College of Art + Design," in Academics, Artists, and Museums, eds. Clare Kunny and Irina Costache (forthcoming from Routledge Press, Museum Studies Series, 2018), co-author with Sarah Cash
Del Greco a Goya: Obras Maestras Del Museo del Prado (Museo de Arte de Ponce, Ponce, Puerto Rico, 2012)
Senderos al Impresionismo / The Journey to Impressionism (Museo de Arte de Ponce, Ponce, Puerto Rico, 2008)
An Impressionist Sensibility: The Halff Collection by Eleanor Jones Harvey (Smithsonian American Art Museum, Washington, D.C. in association with D Giles Limited, London, 2007)
Bibliography, provenance, and exhibition histories for the catalogue, Pierre Bonnard: Early and Late (The Phillips Collection, September 2002)
---
Education
BA Humanities, Michigan State University
MA Art History, Michigan State University
PhD Art History, University of Texas at Austin
---
Professional Organizations
College Art Association, member
Guild of Professional Tour Guides, Washington, DC, member
She is also a licensed Washington, DC professional tour guide