Janis Goodman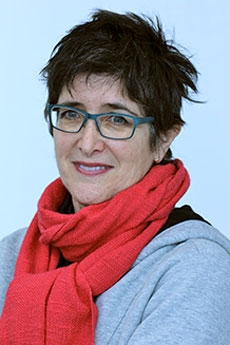 Janis Goodman
Professor, Art and Design, Studio Arts Program
---
Contact:
Bio
Janis Goodman is a DC based visual artist. She is a founding member of the artist cooperative group Workingman Collective. She has been the arts reviewer for the Washington PBS affiliate WETA TV, Around Town television program since 2003. Her work is in numerous American and international public collections. She has had artist residencies in Italy, the United States, Germany and England. Her work has been shown in numerous exhibitions throughout the U. S. as well as in Russia, Italy, The Netherlands, Peru, England, Japan and Germany.

She is highlighted in Who's Who in American Art, North American Women Artists of the 20th Century, the Artist Bluebook and 100 Artists of Washington, DC by F. Lennox Campello. Janis' work has been reviewed in The New York Times, The Washington Post, The Washington City Paper, and Art in America in addition to numerous other publications in American and international journals.
---
Current Outside Position
Janis is currently working on a series of paintings exploring the relationship between the depictions of the natural world with the depiction of the imagined and remembered one. Her study of the natural world is completed by looking into formal entomological species as well as botanical categories.
---
Distinctions
Arts Reviewer: PBS, WETA TV, Around Town, 2003 - Present

DCCAH grant to individual artists

NEA support grant

Guest Lecturer: National Gallery of Art, Phillips Collection
---
Publications
Written Reviews:
Sculpture Magazine, March 2008, Vol. 27 No. 2

Eagull International Publications, Stephanie Bartron-Miscone, Introduction for artist monograph, 2010
---
Education
BA Printmaking, Queens College
MFA Fine Arts, The George Washington University
Additional studies in printmaking, Pratt Graphics Center
---
Professional Organizations
Founding member of the artist cooperative group Workingman Collective