Eugene Montague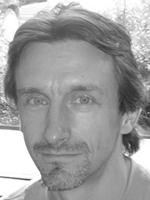 Eugene Montague
Associate Professor, Musicianship & Theory Undergraduate Advisor, Music
---
Contact:
Bio
Eugene Montague joined the faculty at the George Washington University in the fall of 2009, having previously taught for several years at the University of Central Florida. Professor Montague's research focuses on many of the ways in which music interacts with movement, including music and dance, theories of performance, and links between musical experience and human consciousness. He has worked with a wide range of repertoire, from 17th-century French dance music to the sounds of the post-war avant-garde. Professor Montague was born and grew up in Ireland, living in both Cork and Dublin. He played the piano from an early age and while attending Trinity College, he also studied piano with Anthony Glavin at the Royal Irish Academy in Dublin, earning advanced diplomas in both performance and teaching.
---
Current Projects
Current projects include:
An exploration of the roles of embodiment in piano performance

An experimental investigation into human preferences in moving to music

An appraisal of musical meaning in 1970s punk rock 
---
Distinctions
Studied piano with Anthony Glavin at the Royal Irish Academy in Dublin
---
Publications
Professor Montague has presented papers on music and movement, on semiotics, and on music and consciousness at regional, national, and international conferences, including national meetings of:
The American Musicological Society

The Society for Music Theory

The College Music Society
He has published essays on:
logic in Iannis Xenakis' compositions

the appropriation of garage rock by the Clash

the metaphor of a compass in Luciano Berio's Sequenza VIII for Solo Violin
A chapter on the disciplinary connections between the study of consciousness and the study of music is forthcoming in the collection Music and Consciousness, to be published by Oxford in 2010.
---
Education
BA (Mod.) in History and Philosophy, Trinity College Dublin
BA (Mod.) in Music, Trinity College Dublin
Master of Music in Music Theory, University of Massachusetts Amherst
PhD, University of Pennsylvania