Theresa Esterlund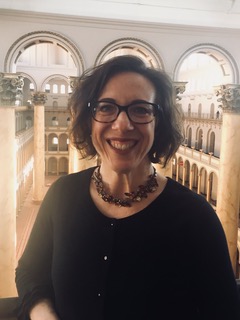 Theresa Esterlund
Part-time Faculty, Professorial Lecturer of Museums as Learning Institutions, Museum Studies Program
---
Contact:
Bio
Theresa Esterlund's professional career spanned 30 years as an educator and leader at the Smithsonian Institution, private museums, art centers, and both public and private schools. Theresa led programming and interpretive teams at the National Building Museum; the National Museum of Asian Art; The Textile Museum; and the National Museum of American History. She developed and taught tours, gallery experiences, and public programs; designed school and teacher programs and materials; wrote exhibition interpretation; created virtual learning opportunities; managed docent and volunteer programs; and oversaw visitor services. In 2013, she was selected to lead a pan-Smithsonian team to create a seven-year education plan for the Smithsonian's historic Arts & Industries Building.
Theresa preceded her museum career teaching middle and high school students with emotional/behavioral challenges and/or learning differences. She has taught yoga and meditation since 2012, is a working artist, and has been involved with several Washington, DC, area community arts organizations. She currently designs and produces stationery and paper goods under her brand Open to Being®.
---
Current Outside Position
Founder, Open to Being, LLC
---
Publications
"Using Critical Appraisal to Inform Program Improvement." Journal of Museum Education, 2017. Theresa Esterlund, Amanda Krantz and Cathy Sigmond.
---
Education
B.S.  Biology, William and Mary
M.Ed. Special Education, William and Mary